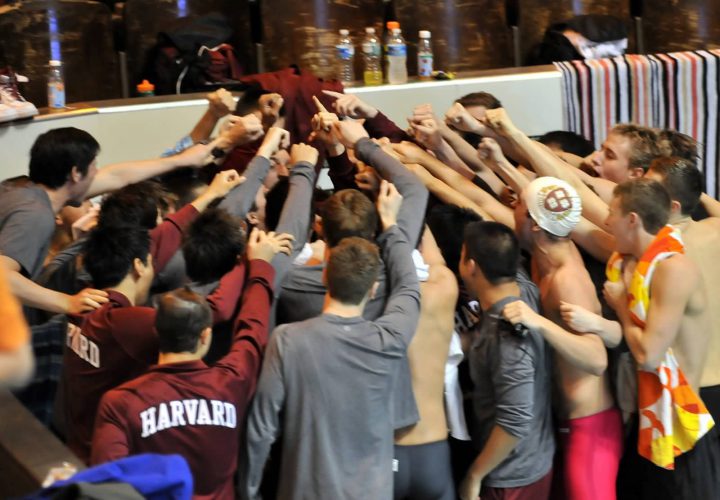 Photo Courtesy: Harvard Athletics
The 2017 Ivy League Men's Swimming and Diving began at Harvard's Blodgett Pool.
2017 Men's Ivy League Day 1 Finals – Results
Harvard, racing in their home pool, won the first event of the meet. The team of Steven Tan (22.04), Shane McNamara (24.27), Max Yakubovich (20.32), and Dean Farris (18.89) finished first in the 200 medley relay in 1:25.52. Their time broke the previous pool record by one and a half seconds.
Penn's CJ Schaffer (22.51), Colin McHugh (24.13), James Jameson (20.34), and Thomas Dillinger (19.36) took second in 1:26.34 while Cornell's Dylan Curtis (22.02), Alex Evdokimov (24.15), Luke Reisch (20.83), and Jack Brenneman (19.68) finished third in 1:26.68.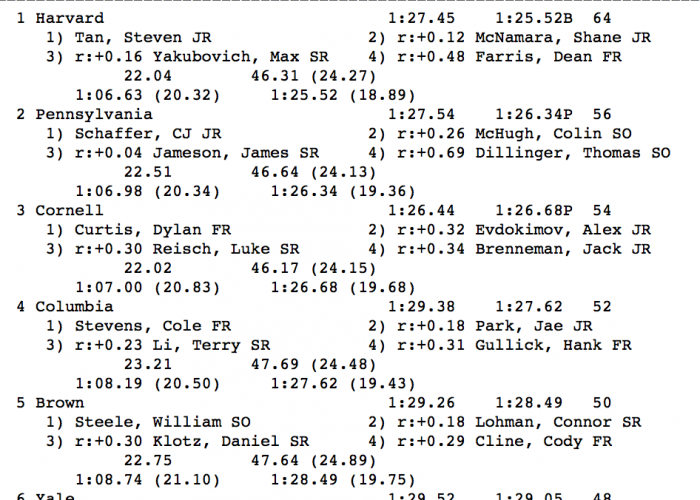 Harvard won the second and final event of the evening, dominating the 800 free relay. The team of Brennan Novak (1:36.47), Zach Snyder (1:36.65), Aly Abdel Khalik (1:35.39), and Farris (1:31.29) grabbed first in 6:19.80.
Their relay crushed the meet record set back in 2009 by five seconds and also set a new pool record. Farris' split time is an astonishing 2.21 seconds faster than the individual 200 free record.
Yale's Jonathan Rutter (1:35.86), Adrian Lin (1:34.71), Tristan Furnary (1:39.15), and Key Hyogo (1:34.52) finished a distance second in 6:24.24. Penn's Kevin Su (1:37.66), Mark Blinstrub (1:36.17), Chris Nicholson (1:37.77), and Mark Andrew (1:34.48) took third in 6:26.08.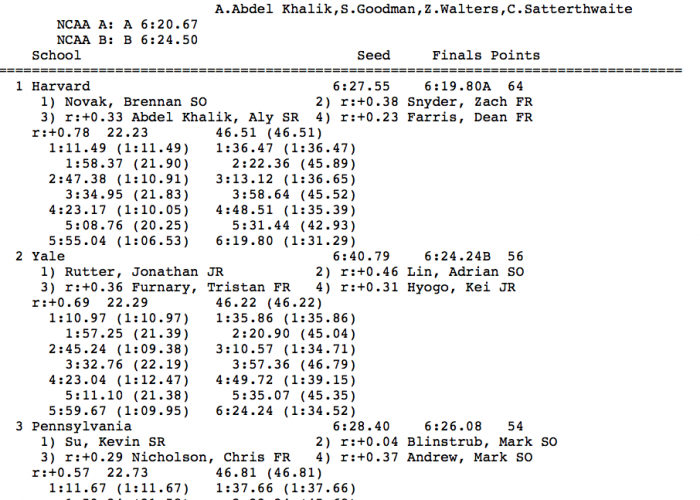 Team Scores:
1. Harvard-128
2. Penn-110
3. Columbia-104
3. Cornell-104
3. Yale-104
6. Brown-96
7. Dartmouth-94
Prelims will begin tomorrow at 11 a.m. EST.
Results can be found on Meet Mobile-2017 Men's Ivy League Championships