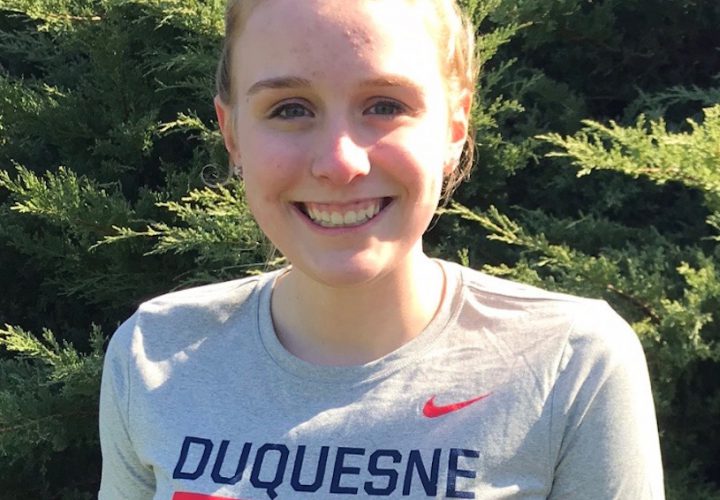 Photo Courtesy: Hannah Thornton
Agon is the proud sponsor of all high school coverage (recruiting, results, state championships, etc.) on SwimmingWorld.com. For more information about Agon, visit their website AgonSwim.com.
To report a college commitment, email HS@swimmingworld.com. Join Swimming World's Watch List
NEW COMMIT: High school junior Hannah Thornton has announced her verbal commitment to swim for Duquesne University beginning in the 2019-2020 season. Thornton attends Avon Grove Charter School and swims for Western Branch YMCA, where she is a nine time YMCA National qualifier (short course and long course combined) and a six time finalist.
Primarily a freestyler, her best times include:
100 Free: 51.67

50 Free: 24.04

200 Free: 1:53.97

100 Fly: 58.08
With a year of her high school career remaining, Thornton is closing in on the times (23.61, 51.50, and 1:52.3) it took to score at the Atlantic10 Championships in February in the 50, 100, and 200 free. The Dukes had a number of freestyle scoring sophomores (Carson Gross, Lauren Devorace, Heather Svitavsky, Shelly Heim) who will be seniors when Thornton arrives in Pittsburgh.
She told Swimming World,
"I am very excited to announce that I have verbally committed to swim for Duquesne University Class of 2023. I chose Duquesne because of the great academic opportunities and the amazing atmosphere the coaches create. The swimmers immediately made me feel welcome and I am excited to be a part of the team. I know Duquesne is the right school for me an I know I can excel academically and athletically here. I can't wait to continue my education at Duquesne University and see what the future brings. Go Dukes!!!"