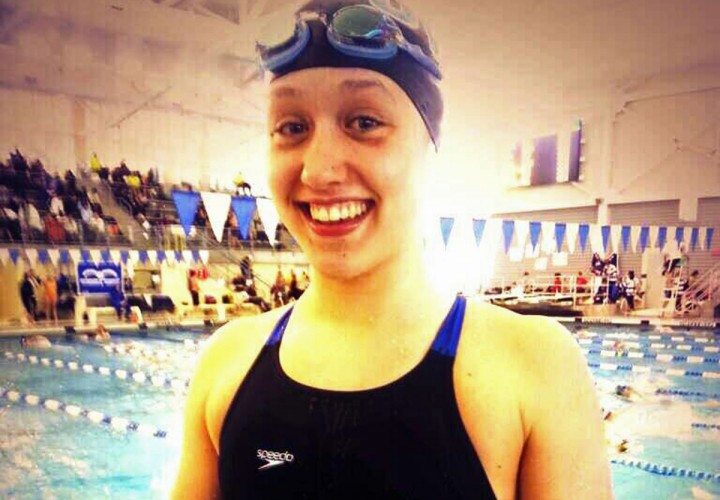 Photo Courtesy: Erin Quinn
Hannah Cox of the Upper Valley Aquatic Club logged in a lot of racing today, winning three more events to bring her total to six wins at the USA Swimming sectionals in Buffalo. The meet was held in long course meters, and Cox added an event to what could be a busy schedule at next year's Olympic Trials.
Cox won the 200 IM with a 2:16.87, dropping more than three seconds off her personal best to get under the Trials qualifying time of 2:18.69. She had a race on her hands at the 150-meter mark, as Makayla Sargent of Victor Swim Club put forth a monster 40.56 breaststroke split to pull even with Cox, who responded with a 30.96 on freestyle. Sargent was also looking for a place at Olympic Trials in the event, and got it with a 2:17.96 for second.
Cox dominated the 800 freestyle with a winning time of 8:46.00, beating her lifetime best by a second that had already qualified for Trials. Two swimmers from the FISH, the breeding ground for distance legend Kate Ziegler, also dipped under the Trials qualifying time of 8:49.99. Michelle Owens posted an 8:49.60 for second, while Madelyn Donohoe dropped nearly 13 seconds off her best time to barely make the Trials cut with an 8:49.76.
Cox's third win came in the 100 freestyle, and the 17-year-old showed off her versatility with the sprint victory in a time of 56.86. It was a 1.6-second improvement on her lifetime best, but just shy of the Trials standard of 56.49.
Four of tonight's event featured previous winners adding another title to their collection. Dylan Sali took both backstroke events when he won the 200 back tonight with a 2:02.93, a lifetime best by six tenths and moves him up the ranks of Trials qualifiers in the event. Drew Modrov, the only postgrad swimmer at the meet, took the 100 free with a 51.44, well off his personal best of 50.81 but good enough for the Auburn grad to win.
Fynn Minuth of Upper St. Clair Swim Club, the winner of last night's 400 free, won the 200 IM with a 2:07.79. Jarrett Jones of Cape Cod Swim Club, the 400 IM winner, was second with a 2:09.93 to mark the only swims under 2:10 today.
Jack McIntyre added to his 800 free win on Thursday with a 16:10.97 in the 1500 free, about 10 seconds off his best time of 16:01.28. Matea Samardzic won the night's other event, taking the women's 200 backstroke with a 2:16.97.
Full results available on Meet Mobile.