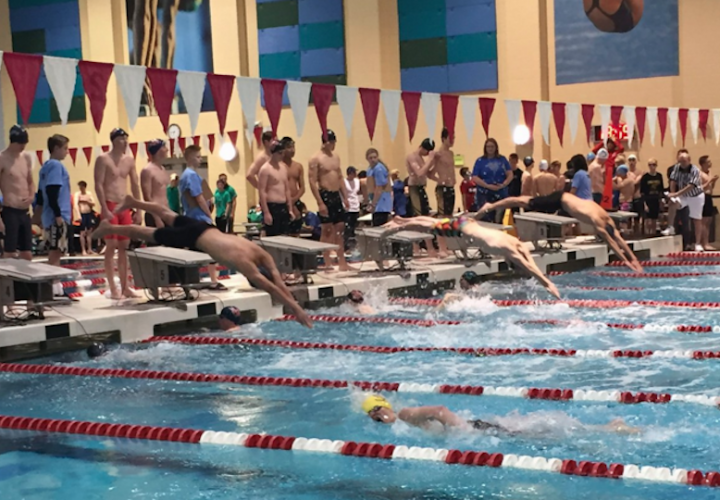 Photo Courtesy: CHSAA Twitter
Agon is the proud sponsor of all high school coverage (recruiting, results, state championships, etc.) on SwimmingWorld.com. For more information about Agon, visit their website?AgonSwim.com.?National Records for High School Are Pending Application Verification.? Click Here to Learn More
Agon is the proud sponsor of all high school coverage (recruiting, results, state championships, etc.) on SwimmingWorld.com. For more information about Agon, visit their website AgonSwim.com.
Colorado high school boys swimming wrapped up this weekend with 4A and 5A state championships. There were two double winners in 5A action and Fossil Ridge swept the relays.
Danny Kovac, Josh Pales, Sam Ybarra, and Kris Malinin topped the 200 medley relay for Fossil Ridge in 1:30.69. In second was William Goodwin, Elijah Warren, Ty Coen, and Alexander Strepman of Regis Jesuit in 1:31.35. Cheery Creek's Alex Bruce, John Strain, Alexander Sironen, and Brendan Eckerman finished third in 1:33.32.
Griffin Eiber of Arapahoe cleared 1:40 to win the 200 freestyle. The senior touched in 1:39.03. Boulder's Quinton Pierce posted a 1:40.76 for silver and Ponderosa's Blake Wilton (1:41.38) was third.
Eiber later won the 100 freestyle with his 44.65. Denver South's Keegan Bundy posted a 45.58 for runner up honors. Fossil Ridge junior Matt Geraghty touched third (46.44).
Michael Zarian dominated the 200 IM. The Fairview senior clocked a 1:47.25. Harrison Lierz, a freshman from Broomfield also separated himself from the field in 1:50.83. Goodwin (1:52.09) was third.
Zarian also earned gold in the 100 fly with a 47.75. Taking silver was Kovac (48.33) and Coen (48.95) picked up the bronze.
Bundy put together an impressive performance in the splash and dash, touching in 20.59, over a half second faster than he went in prelims. Also improving was Fossil Ridge's Shamzi Alkaff (21.04) and his teammate Gerhaty (21.12). He out touched Warren by .01.
Bear Creek's Octavio Lucero won the one meter diving by over 50 points with 556.30.
After finishing second in the 200 free, Pierce was first to the wall in the 500 with a 4:31.78. He had a freshman on his heels. Broomfield's Harrison Lierz placed second in 4:33.09. Nathan Rock of Boulder (4:39.10) was third.
Fossil Ridge dominated the 200 freestyle relay. Alkaff, Geraghty, Pales and Malinin touched in 1:23.64. Fairview's Michael Zarian, Will Brown, Joe Felton, and Walker Martin (1:25.44) were second. With a 1:25.65 Cherry Creek's quartet of Sironen, Jack Winsor, Alec Thompson, and Joseph Jang were third.
Columbine sophomore Gavin Olson won the 100 backstroke in 48.35. Kovac (48.70) earned silver. Coen (50.13) completed the podium.
Liberty's Joshua Lanzmeier edged Regis Jesuit's Warren 55.66 to 55.88 for the 100 breaststroke title. Fossil Ridge freshman Pales (56.78) was third.
Geraghty, Ybarra, Kovac, and Alkaff combined to win the 400 freestyle relay for Fossil Ridge in 3:03.87. Fairview's Zarian and Martin teamed up with Lochlainn Renfrow and Justin Li to place second in 3:05.28. Regis Jesuit was third in 3:06.82 with the team of Coen, Tj Miller, Sam Jones, and Warren.
Team scores were not yet available.
Results available here.