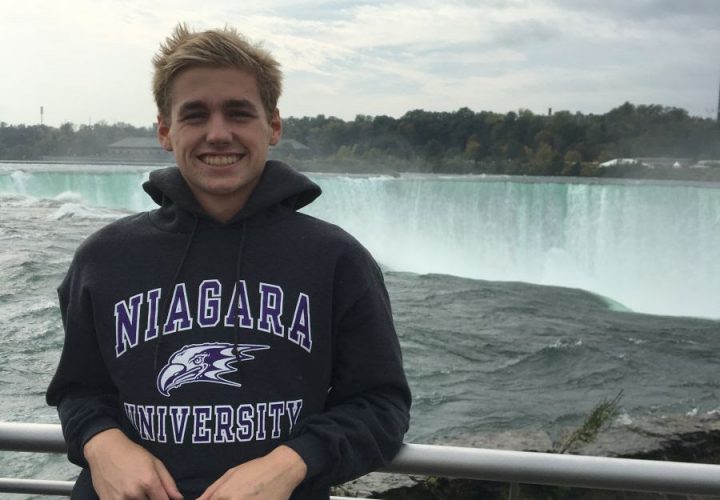 Photo Courtesy: Brad Herndon
Agon is the proud sponsor of all high school coverage (recruiting, results, state championships, etc.) on SwimmingWorld.com. For more information about Agon, visit their website AgonSwim.com.
To report a college commitment, email HS@swimmingworld.com. Join Swimming World's Watch List
NEW COMMIT: Ben Esposito has committed to swim at Niagra University as a member of the Class of 2022. Esposito began swimming as a way to stay in shape for basketball, and shifted his focus to the sport in his freshman year in high school. He swims for Greensboro Community YMCA, where he has been since December 2014.
He said of the decision,
"I chose Niagara University because it is a school that best suited my future career path, and had everything that I was looking for academically, athletically, and socially. I was looking for a program with a family atmosphere and a commitment to training; and I felt like I made an immediate connection with the swim team at Niagara. Coach Ben Nigro, who swam at UNC-Wilmington, is also a coach that I felt could take my swimming to the next level. I look forward to my development as a student-athlete at Niagara. "Go Purple Eagles!!"
Esposito has spent his last two years of high school at Grimsley. As a member of the Grimsley High School swim and dive team, Ben has qualified for the 4A Central Regional Championships in the 100 breaststroke and the 200 Individual Medley over the past two seasons. During his tenure at Grimsley, the Whirlies have repeated as the Metro 4A Conference Champions.
Prior to moving back to Greensboro, Esposito lived in Elon, NC, and attended The Burlington School. While at TBS, Esposito was named to the Triad Athletic All-Conference swim team in 2014 and was a conference champion in the 100 Breaststroke, the 200 Medley Relay, and the 400 Freestyle Relay.
At the NCISAA State Swim Championships Esposito finished seventh (2015), and ninth (2014) in the 100 breaststroke, and 11th (2015) and 15th (2014) in the 100 butterfly. In 2014, The TBS boys swim team finished seventh in the state, the highest finish in the school's history.
Esposito was a multi-sport star at TBS as he played junior varsity basketball his freshman year and he was a two-time varsity tennis letterman. Ben played number two singles his sophomore year and number six singles his freshman year, helping the team to third place finishes in the NCISAA 1A State Championships in 2015 and 2016.
Primarily a breaststroker, his best times include:
50 Breast 29.89 (50 Breast split at 2017 Sr. Champs)
100 Breast 1:03.76
200 Breast 2:19.53
50 Butterfly 26.19
100 Butterfly 57.07
200 IM 2:08.20
Greensboro Community YMCA contributed to this report.