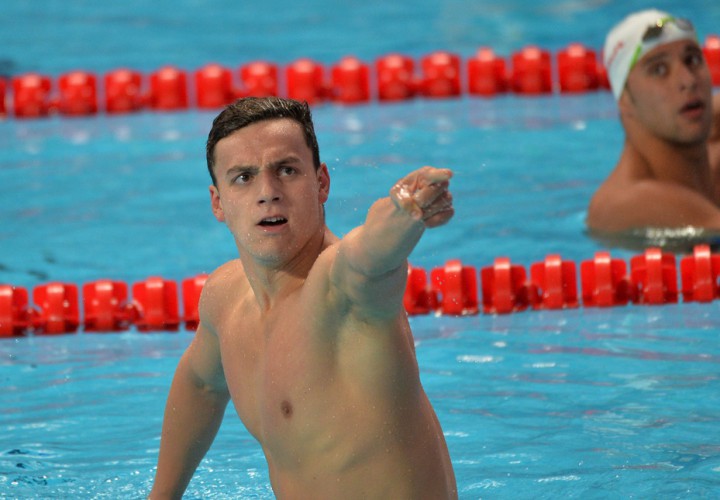 Photo Courtesy: R-Sport / MIA Rossiya Segodnya
Coverage of the 2015 FINA World Championships is sponsored by Wylas Timing. Visit our coverage page for more.
Great Britain's relay team made history by winning the 800-meter free relay for the first time ever, ending the USA's five-meet winning streak in the event. Daniel Wallace (1:47.04), Robert Renwick (1:45.98), Calum Jarvis (1:46.57) and James Guy (1:44.74) turned in a combined 7:04.33 to claim the gold medal and move to the top of the 2015 world rankings. An impressive anchor leg from Guy secured the win as he overtook Michael Weiss of the USA to close the race.
Not only does this mark the first time Great Britain has won the event at the World Championships but the group of four also set a new British record in the event replacing the 2009 record of 7:05.67. Renwick was also a member of the 2009 relay, leading off for Robert Bale, David Carry and Ross Davenport.
The USA relay team led for the first three legs of the race with Ryan Lochte (1:45.71), Conor Dwyer (1:45.33) and Reed Malone (1:46.92) all turning in quick splits. Weiss' split of 1:46.79 was not a bad split, there was just no stopping Guy from getting to the wall. Combined the USA finished in 7:04.75 for the silver medal.
Australia's Cameron McEvoy (1:46.46), David McKeon (1:47.05), Daniel Smith (1:46.38) and Thomas Fraser-Holmes (1:45.45) turned in a time of 7:05.34 for the bronze medal. Although Grant Hackett did not swim the relay in finals, because he was part of the relay in prelims he will still receive a medal for his swim earning him his fifth medal in the event (gold in 1998, 2001, & 2003; bronze in 2005 & 2015).
Russia finished fourth overall with a 7:06.89, separating themselves from the pack with a 2.12 second difference between the final finishers.
Germany claimed fifth with a time of 7:09.01, while Belgium earned themselves sixth overall with a 7:09.64 finish.
The Netherlands (7:09.75) and Poland (7:10.34) finished seventh and eighth respectively.
Scheduled Events
Women's 100 Free (Finals)
Men's 200 Back (Finals)
Women's 200 Back (Semis)
Men's 50 Free (Semis)
Women's 200 Breast (Finals)
Men's 100 Fly (Semis)
Women's 50 Fly (Semis)
Men's 200 Breast (Finals)
Men's 800 Free Relay (Finals)
Men's 50 Free (Swim-Off)
2015 FINA World Championships Finals, Day 6 – Results