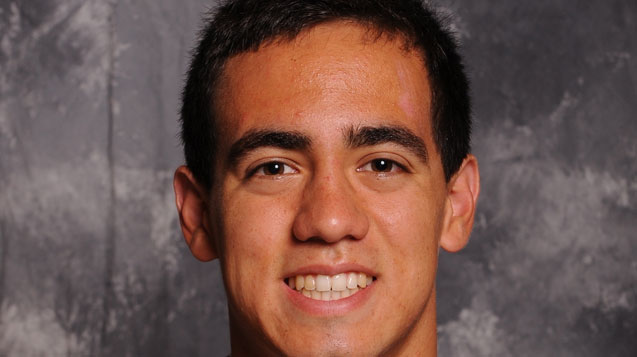 LOS ANGELES, California, March 21. OUR series of articles featuring first-time qualifiers for the NCAA swimming and diving championships continues today with a mentally and physically tough swimmer about to take on a very challenging double at the Big Meet.
Name: Cary Wright
Year, school: Junior, Southern California
Events he'll swim: 400 IM, 1650 free, 200 fly
Swimming World: Congratulations on qualifying for the NCAA championships! I'm sure qualifying for the meet was always a goal, but was there a point in the season where you had doubts it would happen?
Cary Wright: Thank you! I definitely had some doubts, but what matters most is how you respond to them. I knew I hadn't gone fast enough mid-season to make the cut, so I focused on improving my strength and underwaters for the second half of the season. The dual meets against Cal, Stanford and Utah gave me confidence, as well as a pep talk from Coach Jon (Urbanchek).
SW: You're doing the 1650 free-200 fly double on the third day of the NCAA championships. How have you been mentally and physically been preparing for that day?
Wright: Ted Singley and I have been doing that double every big meet of our careers, so I'm prepared for it mentally because of experience and knowing that he's in that boat with me. Physically, any time I do a long-sprint freestyle practice, I try to throw in some butterfly work. Even if it's only 25's, it really helps simulate going back and forth between the two events.
SW: In addition to those two events, you're doing the 400 IM. Was swimming the 500 free an option, or was it always the plan to "sit out" the first day of the meet?
Wright: This year the IMs were our weakest events, so Steven Stumph and I trained for the 400 IM in order to score well in dual meets and at Pac 12's. We're lucky to have such incredible depth in the 500 (Reed Malone, Cristian Quintero, etc.), so I'm fine with just cheering for them on the first day.
SW: Of the three events, which one are you most looking forward to swimming at NCAAs?
Wright: I'm definitely looking forward to the 200 fly the most. I've always considered it my favorite event, and I think I have a real shot at making a final.
SW: USC's relays always do well at the NCAA championships. Would you be in favor of adding an 800 medley relay so you can be a part of the Trojan relay tradition?
Wright: It's funny that you ask! I joke about this almost every time we practice dives or relay starts. Relays reflect the cohesiveness of a team, and we pride ourselves in putting up some of the best quartets in the country every year. If we had an 800 medley I'd definitely contribute, but for now I'll stick to cheerleading.
SW: How has having Jon Urbanchek on deck as an assistant coach this season helped you?
Wright: Jon is an incredible coach – you can see it in the passion and enthusiasm he has every time he's at practice. I do long sprint with him on Tuesday and Thursday mornings and I know it's helped me improve a lot. He pulled me aside before Pac 12's and told me he knew I was capable of going much faster than I had mid-season, which really meant a lot to me.
SW: If USC's swim team had a motto for this season, what would it be?
Wright: This year we've really needed to "Fight On" through a lot of adversity. However, a quote from Fred Uytengsu (a former swimmer who made a donation for our amazing new facility) really speaks to the theme of this year: "We may be measured by what we accomplish, but we are defined by what we attempt." No matter what, I'm proud of how much our team has come through to get to where we are.