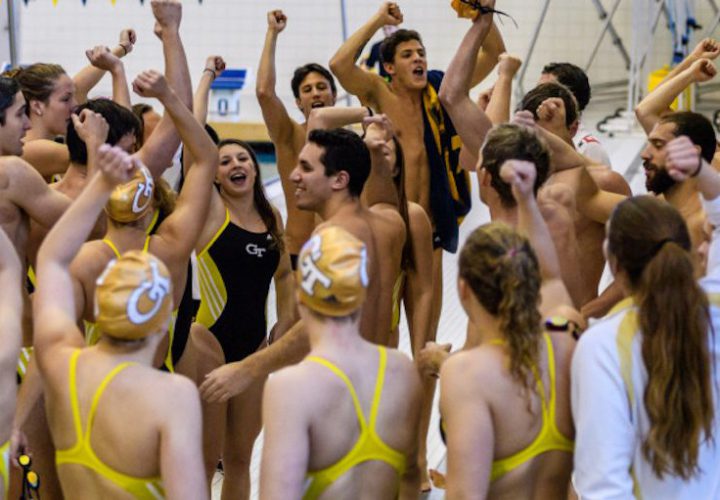 Photo Courtesy: Danny Karnik (Georgia Tech Athletics)
Agon is the proud sponsor of all high school coverage (recruiting, results, state championships, etc.) on SwimmingWorld.com. For more information about Agon, visit their website AgonSwim.com.
To report a college commitment, email HS@swimmingworld.com. Join Swimming World's Watch List
NEW COMMIT: The Georgia Tech swimming and diving Class of 2022 has received a verbal commitment from Columbia, Missouri's Nicole Williams, according to an update on her CollegeSwimming profile.
The rising senior at Rock Bridge High School was a key piece of the team's 2017 Missouri high school state championship runner up finish. Williams swam the breaststroke leg (28.68) of the state title winning 200 medley relay. She then posted a runner up finish in the 200 IM before dominating the 100 breaststroke. Williams also posted the team's fastest split (23.82) on the ninth place 200 freestyle relay. Ultimately, Rock Bridge fell to Lafayette by a mere 3.5 points.
She swims for Columbia Swim Club where she is a breaststroker who also brings along solid IMs. Her best SCY times are:
50 Breast 29.41
100 Breast 1:01.38
200 Breast 2:14.85
200 IM 2:03.99
400 IM 4:21.75
Williams will be a valuable addition to the Yellow Jackets. At the 2017 ACC Championships she would have been at the top of the B final in the 100 breaststroke. Senior Chiara Ruiu was the team's only point scorer in that event, touching 21st. Williams also would have snuck into the 200 breaststroke C final. Additionally, Williams' flat start best 100 breaststroke is even quicker than Ruiu split on the team's 400 medley relay. While maybe not enough to move up in the overall relay finishes, Williams' presence should be a boost to Georgia Tech's relay performances.