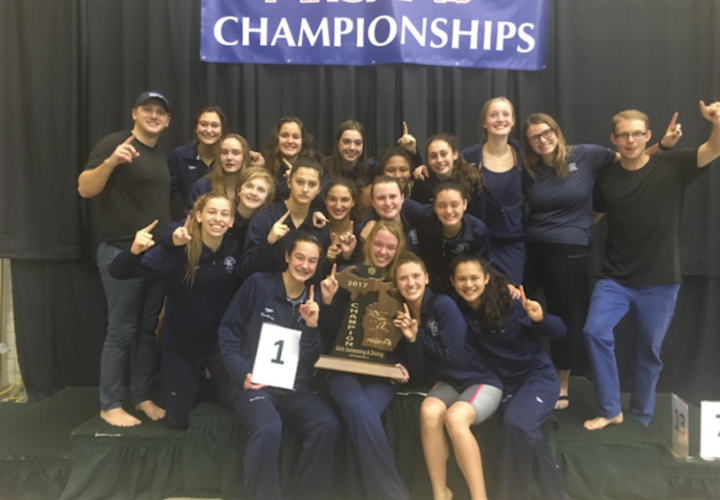 Photo Courtesy: CK Athletics Twitter (@AthleticsCK)
Agon is the proud sponsor of all high school coverage (recruiting, results, state championships, etc.) on SwimmingWorld.com. For more information about Agon, visit their website?AgonSwim.com.?National Records for High School Are Pending Application Verification.? Click Here to Learn More
Agon is the proud sponsor of all high school coverage (recruiting, results, state championships, etc.) on SwimmingWorld.com. For more information about Agon, visit their website AgonSwim.com.
The girls from Cranbrook Kingswood scored 292 points to win the 2017 Michigan Girls Division 3 High School State Championships. Bloomfield Hills Marian was second with 207 points.
Susan LaGrand, Lauren Ryle, Hannah DeBoer, and Nichole Rotelle won the 200 medley relay in 1:47.80 for Grand Rapids Catholic.
Cranbrook Kingswood freshman Gwen Woodbury got her school's first win with a 1:51.77 200 freestyle. Bloomfield Hills senior Lauren Biglin finished second in 1:52.15. Woodbury's teammate and classmate Justine Murdock was then second in the 200 IM (2:09.08) behind Milan senior Madelyn Cislo (2:05.01). Woodbury also won the 100 freestyle in 51.53. Two other freshmen joined her in the top three: South Haven's Ellie Frost (52.81) and Hamilton's Nella Pashak (53.51).
Rhianna Hensler of Notre Dame Prep won the 50 freestyle with a 23.78 and the 100 butterfly in a new division record time of 55.67. Also under the old division record, a 56.21 set by Hensler in 2016, was Cislo with a 55.90.
Milan's Mackenzie Crawford won one meter diving with 463.75 points. In 5:04.69 Bloomfield Hills Marian's senior Biglin won the 500 free.
Jordan Murrell, Charlotte Trunsky, Sydney Allison, and Woodbury posted a 1:37.95 to win the 200 freestyle relay.
LaGrand, a senior from Grand Rapids Catholic Central, stopped the clock in 55.85 to win the 100 backstroke. Murdock was second in 57.83. Saint Clair senior Molly Likins dominated the 100 breaststroke with a 1:02.88, coming up just .28 shy of Illeah Doctor's Division record.
Murrell, Trunsky, Camille Misra, and Woodbury combined for a 3:33.38 to win the 400 freestyle relay for Cranbrook Kingswood.
Full results available here.