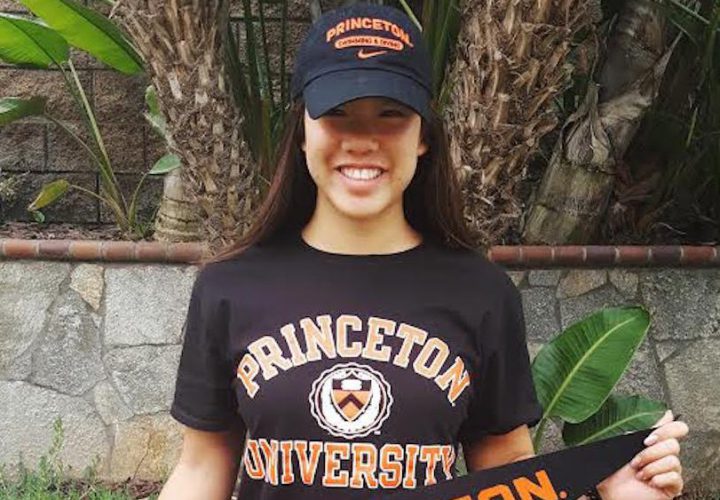 Photo Courtesy: Courtney Tseng
Agon is the proud sponsor of all high school coverage (recruiting, results, state championships, etc.) on SwimmingWorld.com. For more information about Agon, visit their website AgonSwim.com.
Courtney Tseng has committed to swim for Princeton University beginning in the fall. Tseng swims for Fullerton Aquatics Sports Team and attends Sunny Hills High School in Fullerton, California.
Tseng shared her excitement,
"I am so excited and thankful to officially announce my commitment to Princeton University! I couldn't have done it without the support of my family, coaches, friends, and teachers. I would like to thank Coach Teeter and Suzanne for giving me this wonderful opportunity to represent Princeton as a student athlete. There is no doubt in my mind that at Princeton, I will be able to improve academically and athletically. I can't wait to be a Tiger!"
Her best times are:
50 free: 23.89
100 free: 50.56
200 free: 1:49.44
500 free: 4:46.87
1000 free: 9:52.27
200 IM: 2:03.68
400 IM: 4:19.31
200 back: 2:02.18
Tseng will make an immediate impact for the Tigers in the Ivy League. At the 2016 Championships, she would have been a B finalist in the 100 freestyle. Princeton had three sophomores in the B final- Maddy Veith, Claire McIlmail, and Alisab Marsteller. Tseng will have a year to train alongside that trio. In the 200 freestyle she would also be a B finalist. That class of 2018 trio all scored in the event as well. Tsenf would also be just outside scoring in the 50 freestyle.  
To report a college decision email HS@swimmingworld.com.