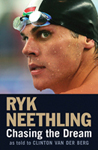 PHOENIX, Arizona, March 30. NEW books from five-time Olympian Dara Torres (USA) and four-time Olympian Ryk Neethling (South Africa) are now available for purchase in the Swim Shop!
When you purchase either book and combine it with either "No Limits: The Will to Succeed" or "Mark Spitz: The Extraordinary Life of a Champion," you will get free shipping in the United States!
In "Age is Just a Number," Torres reveals how the dream of an Olympic comeback in 2008 first came to her — when she was months into her first hard-won pregnancy. With humor and candor, Dara recounts how she returned to serious training —while nursing her infant daughter and contending with her beloved father's long battle with cancer.
Neethling details the journey from a shy kid in South Africa to renowned Olympic gold medalist and NCAA champion in "Chasing the Dream." The book goes right up to the end of the 2008 Beijing Olympics, in which Ryk became the only South African swimmer to compete in four successive Olympic Games.