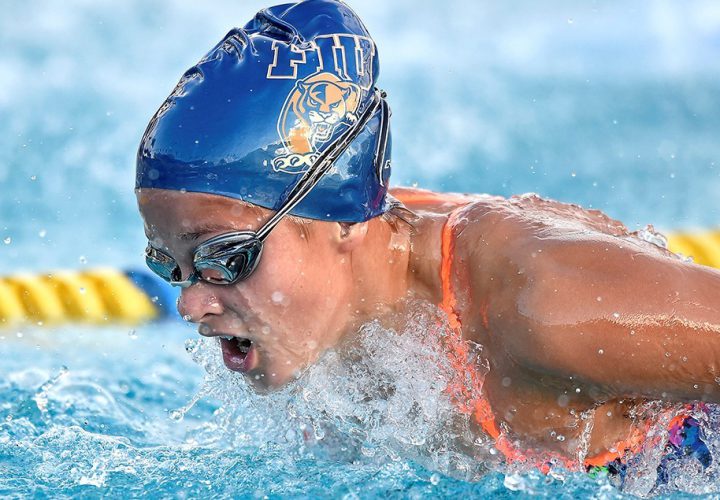 Photo Courtesy: Conference USA
The 2018 Conference USA Swimming and Diving Championships began Feb. 21 at the McAuley Aquatic Center in Atlanta, Georgia. Florida International won both of the opening relays in school-record times as they seek to win their fourth-consecutive Conference USA Championship title.
Florida International started the weekend off with a win in the 4×50 medley relay. The quartet of Naomi Ruele (24.53), Sara Gyertyanffy (27.41), Letizia Bertelli (23.48) and Ally Mayhew (22.42) combined to stop the clock in 1:37.84.
Rice's Kaitlyn Swinney (25.61), Marie-Claire Schillinger (27.42), Brittany Bui (24.23) and Lauren Rhodes (22.30) finished second in 1:39.56 while Marshall's Jordyn O'Dell (25.72), Catherine Bendziewicz (27.98), Hannah Robins (24.09) and Lauren Cowher (22.51) took third with a time of 1:40.30.
The Panthers continued their day one winning ways with a four-second victory in the 4×200 free relay. Skye Carey (1:46.99), Kyna Pereira (1:46.64), Berta Triola (1:47.83) and Megan Bowen (1:47.18) posted a final time of 7:08.64 to earn the gold.
Rice's Alicia Caldwell (1:47.15), Ellery Parish (1:47.84), Hanna Huston (1:49.75) and Lindsay Mathys (1:50.02) swam to silver in 7:12.73 and Marshall's Anna Lynch (53.28), Catherine Bendziewicz (1:47.17), Maggie Stoval (1:49.49) and Darby Coles (1:49.64) grabbed the bronze in 7:16.32.
Prelims will begin tomorrow at 10:30 a.m. EST.