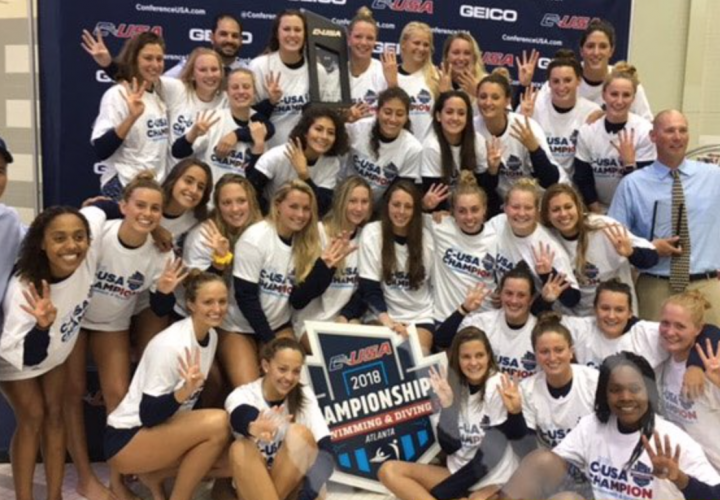 Photo Courtesy: FIU Swimming & Diving Twitter
Florida International won their fourth-consecutive Conference USA team title, finishing the meet with a total of 1031 points. Rice took second with a final score of 781, followed by Marshall (513), North Texas (442), Florida Atlantic (319) and Old Dominion (315).
Women's 1650 Free
Florida Atlantic won their first event of this meet thanks to Spence Atkins' win in the mile. The sophomore, who transferred from Tennessee, finished in 16:22.97.
Florida International's Oceane Peretti finished second in 16:26.35 and Rice's Hanna Huston took third in 16:33.37.
Marshall's Anna Lynch (16:37.86), Florida Atlantic's Natalie Clausen (16:39.18), Florida International's Kyna Pereira (16:47.78), Rice's Claire Therien (16:53.68) and Marshall's Cara Martin (16:53.71) completed the top eight.
Women's 200 Back
Florida International's Skye Carey dropped over three seconds from her prelims time to win the 200 back. The senior stopped the clock in 1:56.31 and is the first individual C-USA title of her career.
Rice took the next two spots: Kaitlyn Swinney finished second in 1:57.58 and Kiley Beall was third in 1:59.00.
Rice's Jaecey Parham (1:59.87), Florida International's Kelsie Campbell (2:00.50), Marshall's Caroline Wanner (2:00.55), Old Dominion's Jacklyn VandePoel (2:00.57) and Rice's Julie Litver (2:00.80) rounded out the A-final.
Women's 100 Free
After winning both the 50 free and 100 fly earlier this weekend, Florida International's Naomi Ruele added a third individual gold to her collection. The junior won with a final time of 49.35.
Ruele's teammate Letizia Bertelli finished a close second in 49.54 as the only other swimmer under the 50-second barrier. Rice's Lauren Rhodes took third in 50.24.
Old Dominion's Sofie Sjoberg (50.26), Rice's Alicia Caldwell (50.49), North Texas' Isabelle Morris (50.52), Marshall's Catherine Bendziewicz (50.52) and North Texas' Sara Whelan (50.58) also swam in the fastest heat.
Women's 200 Breast
Rice's Marie-Claire Schillinger cruised to first in the 200 breast for her third-straight victory in this event. The junior won gold in a time of 2:12.62.
North Texas' Claudia Kitching grabbed the silver in 2:13.63 and Florida International's Carita Luukkanen took bronze in 2:13.93.
Old Dominion's Ashley Brem (2:14.40), Rice's Nicole Limberg (2:15.08), Rice's Cailey Renken (2:15.96), Florida International's Nicole Hunnewell (2:16.44) and Marshall's Emma Lockyer (2:16.93) rounded out the A-finalists.
Women's 200 Fly
Not too longer after earning gold in the mile, Atkins was again victorious in the 200 fly. She was the first of three swimmers under the two-minute barrier, earning her second victory in 1:57.87.
Florida International's Stephanie Hussey touched the wall second in 1:59.27 and Rice's Lindsay Mathys finished third in 1:59.47.
Rice's Brittany Bui (2:00.46), Rice's Kaitlin Benjamin (2:01.78), Florida International's Camille Wishaupt (2:02.58), North Texas' Caroline Culpepper (2:03.78) and Marshall's Shir Wasserman (2:04.49) and also swam in the A-final.
Women's Platform Diving
For the third time this meet, Florida International swept the top five stops, this time in the platform diving. Senior Becca Quesnel dove to first with a total score of 215.35, making this her second win of the meet after placing first in the 1-meter as well.
Rachel Foord took second in 237.75 and her teammate Brooke Bouchard finished third with 220.20 points.
Laura Coronado (209.75) (204.65), Britanny Haskell (194.65), North Texas' Meghan Miller (191.45), Florida Atlantic's Lauren Beyer (185.95) and Marshall's Madison Young (177.05) also dove in the A-final.
Women's 4×100 Free Relay
Florida International swept all five relays at this meet, winning the final event of the 2018 Championships as well. The 4×100 free relay team of Bertelli (48.67), Carey (49.97), Megan Bowen (49.79) and Ruele (48.53) finished nearly four seconds ahead of the competition in 3:16.96.
Rice finished second in 3:20.80 and North Texas was third in 3:21.75.