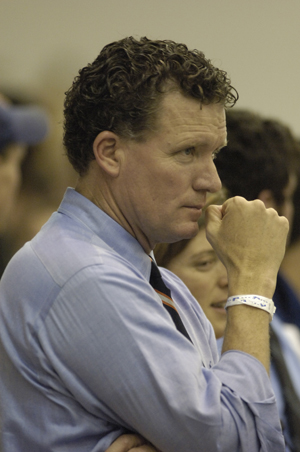 PHOENIX, Arizona, December 28. AFTER an action-packed July and August, the swimming news calmed down with only a pair of Flash! tagged articles in September and October.
James Madison joined the assault on collegiate men's swimming by announcing its cuts, while David Marsh started what might turn into a domino effect after leaving the top collegiate job at Auburn for a position at the Mecklenburg Aquatic Club.
Rewind takes a look back at both of those stories.
∙ James Madison Men Next on Chopping Block — September 29, 2006 by Jason Marsteller
The attacks on collegiate men's swimming continued in late September as James Madison University announced that it would cut men's swimming, along with nine other sports, to allegedly comply with Title IX. The use of Title IX as the reasoning behind the cuts is coming into question as further reports out of James Madison state that the cuts did not completely put JMU into Title IX compliance. The athletics department has asked several of its women's sports to add participants to put the department into compliance.
∙ Marsh Accepts Position With USOC, Will Leave Auburn After Season; Richard Quick to Serve as Advisor — October 18, 2006
In a move rumored since the U.S. National Championships, David Marsh finally pulled the trigger and announced he was leaving Auburn for a position with the Mecklenburg Aquatic Club. The club will establish a USOC Center of Excellence as part of the hire.