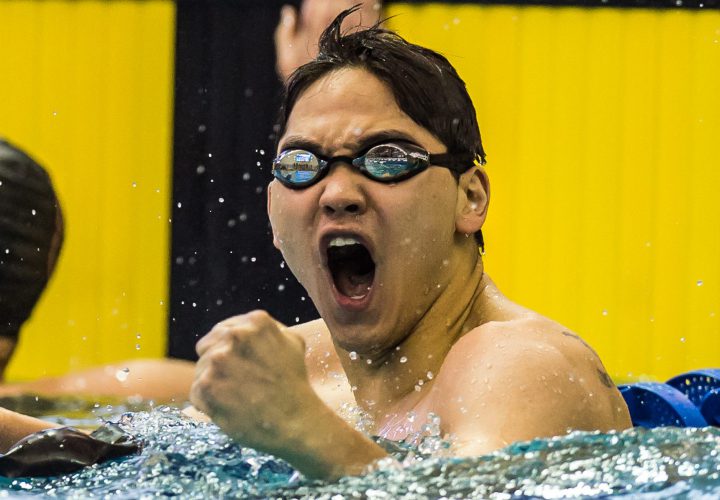 Photo Courtesy: Peter H. Bick

Editorial Coverage Sponsored By FINIS
Commentary by Chuck Warner and Taylor Brien 
There's no argument that Michael Phelps has been having a spectacular final showing at the Olympic Games. The GOAT continues to cement his name in the history books by upping his gold medal count with each finals he swims in.
But tonight's 100 fly final could arguably show Phelps some of his toughest competition yet. Singapore's Joseph Schooling dove in for prelims Thursday morning on a mission: to claim Singapore's first ever Olympic medal in swimming. And based on the times Schooling has been throwing down he's aiming for a gold.
Schooling topped prelims of the 100 fly with a 51.41, leading the competition by .11 seconds. Later that night in semi-finals Schooling continued to turn up the heat on the competition posting the only sub-51 second swim of the night at a 50.83. His time not only kept him at the top of the leaderboard going into finals, but also sits as the fastest time posted in the world for 2016.
So how could Schooling beat the GOAT in his signature event?
He is swimming GREAT. His 48.2 100-meter free prelim swim was sensational.
His Bolles mates (Ryan Murphy and Caeleb Dressel) are swimming great, and after Murphy won both backstrokes, he's going to want gold just as much.
His finals swims at NCAAs were much better than prelims and he's already gone 50.8 this week, and was out in 23.8.
His 'surge' at the end of races at NCAAs was "Phelpsian" like.
There is more motivation because winning a gold medal for Singapore equates to more than in the USA.
Phelps, however, swam last night's semi-finals with a short turn-around from his historic fourpeat of the 200 IM and it showed. Phelps turned last at the 50 of the first semi-final, but turned on the famous Phelps speed to charge down the pool to a second place finish, earning him the fifth place seed for finals.
Tonight when he enters the pool for finals he will be rested. And he will be ready. Phelps has won gold in the 100 fly in the last three Olympiads and will be seeking his second historical fourpeat with what could be his 23rd gold medal.