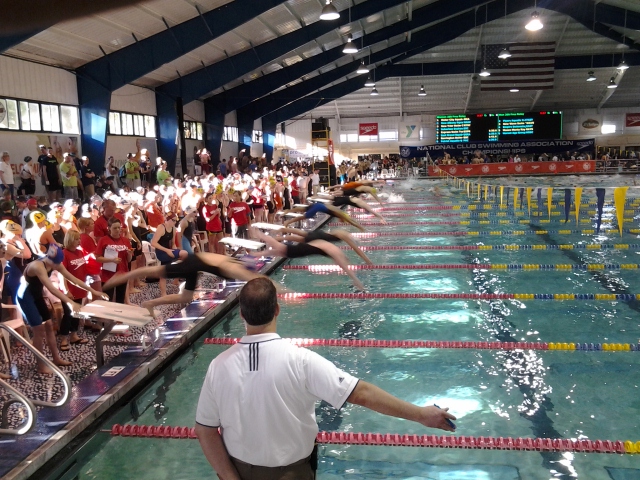 ORLANDO, Florida, March 18. THE women kicked off the 2014 National Club Swimming Association short course junior nationals with thrilling ties for first place in two of the three events they contested tonight.
The lead changed hands three times in the eighth of eight timed final heats in the women's 1000 free today. Kylie Stewart, a junior world championship medalist in the 200 backstroke representing Dynamo Swim Club, took the race out quick and had the lead for about 198 yards. Rongione, who recently moved to Nation's Capital Swim Club, took over the lead at the 200-yard mark with a 1:52.73 to Stewart's 1:52.93. Cailley Silbert of Cougar Aquatic Team lurked in fourth with a 1:53.95 while Megan Byrnes held third with a 1:53.33.
Rongione, also a junior world championship medalist with a bronze in the 1500 free, held the lead for the next 650 yards, though Silbert and Stewart began to outsplit her after the 700. Silbert took over at 900 with an 8:44.25 to Rongione's 8:44.29, with Stewart just a stroke behind. Silbert and Rongione broke away slightly in the final 25 yards to post a tie with matching times of 9:41.13, while Stewart settled for third with a 9:43.60.
These swims marked personal bests for all three, with Silbert dropping eight seconds from her best time, swum at last year's NCSA juniors. For Rongione, it's only a best time by five tenths, with her best of 9:41.63 coming at last March's Potomac Valley senior championships. Stewart's best time before today was a 9:48.32 from last year's NCSA juniors.
In the night's final women's event, the 200 medley relay, Kylie Stewart's 24.49 backstroke leg gave Dynamo a big lead after 50 yards. But Aquajets closed the gap significantly in breaststroke, with Nation's Capital just a few tenths behind. Going into freestyle, it appeared it would be a battle between Dynamo and Aquajets, but Nation's Capital had 50 free national age group record holder Janet Hu on their side. At the touch, Nation's Capital and Aquajets tied with times of 1:40.39, with Dynamo not far behind for third with a 1:40.68. Hu posted a 21.95 anchor leg to put NCAP in range of the win.
The men's 1000 free featured a virtual race for the gold medal, with Baylor School's Sam McHugh posting an 8:53.71 in the ninth of 10 heats. It appeared that Townley Haas, representing Nova of Virginia, would not challenge McHugh's pace. After 500 yards, McHugh posted a 5:16.32, while Haas flipped at 5:19.57. But Haas made a big move in the final 200 yards, getting within a second of McHugh at the 900-yard mark before posting an 8:53.31 for the event win. Brennan Novak of Rockville Montgomery joined the two under nine minutes with an 8:58.48 for third. The swims represented major time drops for the top three finishers. Haas dropped 12 seconds off his best time, while McHugh chopped an amazing 27 seconds from his lifetime best. McHugh was incredible last month at the Tennessee state high school championships, including a 4:16 in the 500 freestyle that he'll chase tomorrow. Novak also made a big time drop, taking 12 seconds off his lifetime best.
Thanks to a 22.48 leadoff leg by Janet Hu, Nation's Capital was able to win the women's 200 free relay with a 1:31.76. Aquajets made a move on the anchor leg to secure second place with a 1:32.23, while Dynamo took third with a 1:32.60.
Baylor Swim Club, featuring swimmers who were part of the Baylor School's amazing performances at the recent Tennessee high school championships, looked to be in command of the men's 200 freestyle relay at the 150-yard mark. But a sizzling 19.94 third leg from John Shebat and a 20.02 from Paul O'Hara on the anchor gave Nation's Capital a commanding win with a 1:20.73. Baylor held off Dynamo to get second with a 1:22.35 to Nova of Virginia's 1:23.17.
Baylor came roaring back in the men's medley relay to cap off the night, posting a 1:28.84. The time is a second slower than the national high school record swim Baylor School posted. Luke Papendick and Sam McHugh were the only swimmers from the record relay to swim tonight, with Papendick's backstroke a couple of tenths faster tonight. Nation's Capital was a distant second with a 1:30.91, while Jersey Wahoos took third with a 1:31.26.