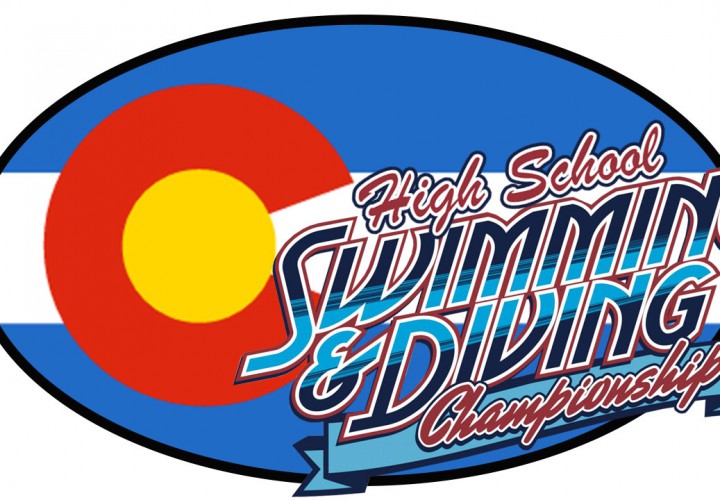 Agon is the proud sponsor of all high school coverage (recruiting, results, state championships, etc.) on SwimmingWorld.com. For more information about Agon, visit their website Agonswim.com.
THORNTON – One year after winning the school's first-ever state swimming and diving title, the Evergreen High School girls swimming and diving team successfully defended its title Saturday night at Veteran's Memorial Aquatic Center at the Colorado Girls 4A State Swimming and Diving Championships.
Evergreen ran away with the team title, posting 368 points to top Cheyenne Mountain (276 points) by more than 90 points. Valor Christian came in third with 193.5 points.
Manitou Springs kicked off the meet in record-setting fashion as the foursome of Kethrys Buffa, Samantha White, Emily Dolloff-Holt and Veronica Morin just held off Valor Christian's Raili Carter, Brook Landt, Madison Hoehn and Brooke Stenstrom to set a new 4A record in 1:45.86. They just dipped under Cheyenne Mountain's record of 1:45.89 by .03. Valor Christian finished right behind in 1:45.93, while Evergreen's Lindsay Morrow, Josie Pearson, Kara Coughlin and Kamryn Holland rounded out the top three in 1:46.59.
In the 200 free final, a second straight 4A record went down as Thompson Valley's Eryn Eddy crushed her own classification record of 1:48.34 with a 1:46.95. Evergreen's Katelyn Kenchel finished a distant second in 1:50.14, while Air Academy's Samantha Steigerwald posted a 1:53.37 to slip in for third.
Evergreen picked up its first state title of the day in the 200 IM, as teammates Lindsay Morrow and Anna McDonald finished first and second. Morrow stopped the clock in 2:03.42, while McDonald touched in 2:06.10. Windsor's Morgan Friesen also cracked the top three with a 2:06.32.
Valor Christian's Brooke Stenstrom lowered the third 4A state record of the day in the 50 free final, cruising to a final time of 23.43 to clip Hannah Driscoll's record of 23.60 from last year. Manitou Springs' Veronica Morin also broke 24, taking second in 23.84. Aspen's Kennidy Quist hit the wall third in 24.03.
Mullen grabbed the top two spots in the 1-meter diving competition as senior Katie Russ established a new 4A state record with 552.20 points, bettering Liz Pike's record of 541.10 from 2001. Teammate Alex Hafey scored 497.70 points to finish second ahead of Niwot's Madison Barkow (490.05).
Cheyenne Mountain freshman Cat Wright got her high school career off to a great start with a win and 4A record in the 100 fly final. Wright posted a 55.49 to erase Mackenzie Stein's 2011 record of 55.64 from the books. St. Mary's Academy's Alex Reddington pushed her the whole way and wound up second in 55.80, while Manitou Springs' Emily Dolloff-Holt came in third at 57.32.
Thompson Valley's Eryn Eddy picked up her second individual title of the day and second 4A record of the meet in the 100 free as she stopped the clock in 50.08. That erased Lexie Malazdrewicz's record of 50.15, set in 2013. Brooke Stenstrom of Valor Christian edged Evergreen's Katelyn Kenchel for second, 50.41 to 50.76.
Evergreen made its way back to the top of the podium in the 500 free as sophomore Kate McDonald edged Thompson Valley's Katie von der Lippe for the title, 5:03.47 to 5:04.12. Air Academy's Samantha Steigerwald finished in the top three for a second time, posting a 5:07.50.
Valor Christian sprinted to the state title in the 200 free relay as Brook Landt, Madison Hoehn, Raili Carter and Brooke Stenstrom topped the field in 1:36.84, just three tenths off the 4A record of 1:36.54. Manitou Springs secured second with Emily Dolloff-Holt, Kethrys Buffa, Samantha White and Veronica Morin touching in 1:37.36. Evergreen's Bailey Smith, Josie Pearson, Kamryn Holland and Katelyn Kenchel wrapped up third in 1:37.74.
Evergreen continued to roll in the 100 back final as senior Lindsay Morrow took home her second title of the day, this time in a new 4A record of 54.56. Morrow had set the previous record of 54.68 in prelims. Teammate Kara Coughlin finished second in 56.83, ahead of Colorado Academy's Mia Brierly (57.57).
After tying Kelly Naze's overall state record of 1:02.47 in the 100 breast in prelims, Windsor sophomore Morgan Friesen blew through that time in finals, establishing a new Colorado and 4A state record with a 1:01.90. Kent Denver's Kendall Crawford finished a distant second in 1:04.26, half a second ahead of Silver Creek's Brandi Vu (1:04.76).
Evergreen put an exclamation point on their second straight team title with a dominant showing in the 400 free relay as Bailey Smith, Katelyn Kenchel, Anna McDonald and Lindsay Morrow cruised to a 3:29.29, just off the 4A record of 3:29.02. Cheyenne Mountain's Maggie York, Rhyann Lowrey, Maggie Tibbitt and Katie Liebscher touched second in 3:33.31, followed by Air Academy's Madison Doerr, Marie Cloonan, Kate Walker and Samantha Steigerwald in 3:40.26.
Colorado Girls 4A State Swimming and Diving Championships – Results