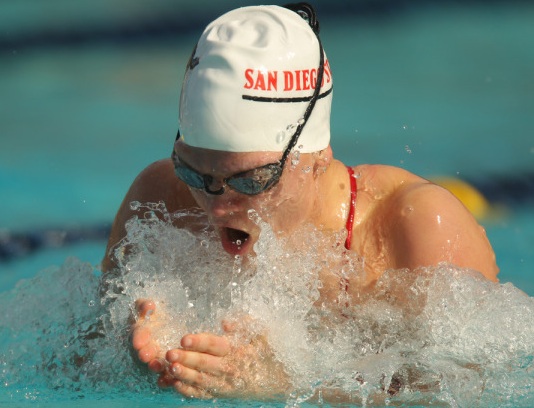 Photo Courtesy: Stan Liu
COLORADO SPRINGS – San Diego State senior Emilie Campbell has been named Mountain West Conference Swimmer of the Week, while Nevada junior Krysta Palmer has earned MW Women's Diver of the Week honors for competition completed through Sunday, January 25. It is the first MW weekly honor for Campbell in her career. For Palmer, it is the fourth weekly accolade this season and of her career.
WOMEN'S SWIMMER OF THE WEEK: EMILIE CAMPBELL, SAN DIEGO STATE
• Led Aztecs to dual wins over San Diego (139-106) and Pacific (129-113) to close out the regular season with an 18-0 dual meet record.
• Won two individual events and one relay event in each meet for six victories over the two-day period.
• Against cross-town rival San Diego on January 23, placed first in the 100-yard breaststroke (1:03.52) and 200-yard breaststroke (2:17.30).
• Swam a leg of the winning 200-yard medley relay (1:45.14).
• Won the same three events on Senior Day, January 24, against Pacific, starting with the 200-medley relay victory in a pool record 1:41.52.
• In the breaststroke events, swam career-best times and set Aztec Aquaplex records. Improved her 100-breast time to 1:01.96 and her 200 time to 2:15.08. Both marks were NCAA 'B' cuts.
WOMEN'S DIVER OF THE WEEK: KRYSTA PALMER, NEVADA
• Won both springboard events as the Wolf Pack defeated San José State, 170.5-120.5 on January 24 in Reno.
• Scored a 340.35 in the 1-meter springboard for the victory, nearly 60 points ahead of her closest competitor.
• Claimed her third Mountain West record of the season with a 415.58 on the 3-meter springboard and first place. It is also a Nevada and Lombardi Pool record, making her the first Wolf Pack diver to earn a score of 400 or better in the event.