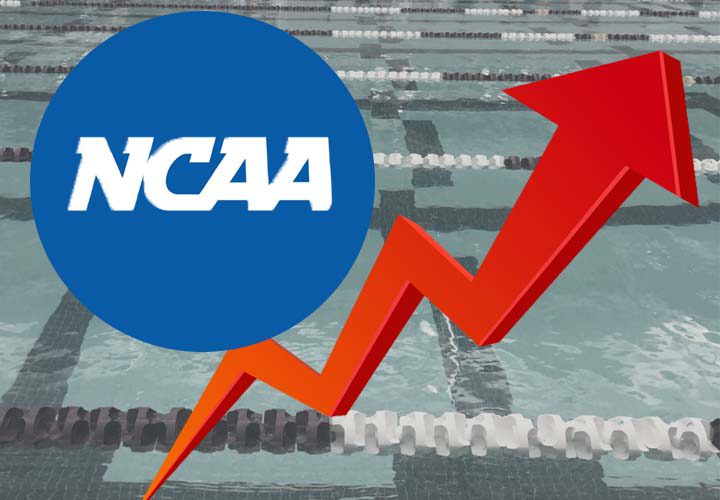 Morning Splash by David Rieder.
In the past year alone, the University of North Dakota and Wright State University swimming and diving teams have all fallen under the axe, as has the University of Buffalo men's team. Each time, "budget constraints" were cited as the primary reason behind the cuts, as the logic behind delivering the worst news imaginable for a swim team.
Trouble for North Dakota's programs first loomed in October 2016, but the school declared just a few weeks later that the teams would be safe—only to renege on that promise in late March. The situation at Wright State was all too similar, where the teams were cut in late May, then reinstated after a massive fundraising effort, then eliminated again in October.
After the Buffalo men's team was cut in early May, team members actually staged a sit-in at the university president's office. A prominent alumnus and team donor has threatened to sue the school.
Those stories have become all too familiar, the sad public face of college swimming. Plenty of other programs around the country sweat for their continued existence year after year. And when teams are cut, what disappears is not just a history and a legacy but an opportunity for 20-30 swimmers to remain in the sport they love during their college years.
So that's why it's noteworthy and even remarkable when a university announces plans to start up a swim team, willing to commit the resources necessary to give teenagers a chance to take their athletic careers to the next level.
But while programs can disappear with a simple announcement—a press release, even—it takes much more to build one from the ground up.
First, the essentials: Secure the use of a pool. Hire a coach. Find swimmers.
That last task, a bit more complex than one might think. A typical recruiting process involves a team's coaches and its swimmers showing high school juniors and seniors what they could come be a part of. For new programs, the coaches—or often just a single coach—must sell their recruits on a vision.
That was the challenge for Jamie Bloom, hired in September 2016 to build a swimming program at William Peace University, a Division III school in Raleigh, N.C.
"One of the biggest challenges of starting a program from scratch is you're basically asking student-athletes to take a leap of faith because there's nothing for them to see," Bloom said. "You have nothing to show anybody. You have your reputation."
Think about how often recruits announce their college commitment by proclaiming their love for a team's culture. For beginning programs, that culture doesn't exist, so the first few classes get a chance to mold what they want a team to look like.
"The group that we had this year and the freshman that we bring in next year and over the next couple years, they all get to make a pretty significant impact," said Mike Ginder, head coach of the first-year Virginia Wesleyan University swim team.
"They get to come up with the traditions that we do, they help set the tone and the culture. All the things that you normally walk in and are already there and you just adapt it, they get to leave a mark on the program. Obviously, the record book is brand new and empty, so that's going to get broken and re-written basically every week."
Not the prototypical college swimming experience, to be sure, so it requires especially committed and engaged swimmers to build a program.
"The kids we're trying to attract right now are the kind of kids that are good swimmers but if you talk to their coaches, 'This is the kind of swimmer you want to build a program around,'" Bloom said. "They're enthusiastic, they're a let's-go-get-this-done kind of leader, they're really into the team culture, and it's important to that they have the opportunity to be that."
When Olympic gold medalist Josh Davis started up a new program at Oklahoma Christian University this fall, he had 45 swimmers on day one, 30 men and 15 women. All but four were freshmen. "It might be the biggest first freshman class ever," Davis said.
For sure, situations like Davis' are the exception. In contrast, when the team at Peace officially started this fall, Bloom had 10 swimmers, including just three freshmen and one sophomore transfer. The others had already attended Peace and were interested in joining the swim team, returning to a sport from their younger years after not training in years.
Convincing upperclassmen to come back to the sport and join a new team involves recruiting—but with a different message than coaches typically funnel to high school juniors and seniors. Before opening up a swim team at Anderson University in Indiana last fall, head coach Conner Snare had no need to convince potential swimmers of the school's merits.
"You're already here because you love this school. You now have an opportunity to do something that you didn't when you first came to this campus. You have an opportunity to be a part of something super special," Snare told students. "Anderson's been around for 100 years, and we've never had a swim team. You get to be a part of that first swim team ever."
The clean slate can be attractive for coaches, too. Take, for instance, Ginder, who left his job as the top assistant coach at Bucknell to come to Virginia Wesleyan.
"This is an opportunity not many people get, to build a program, to be on the first team, to be the first coach," Ginder said. "I can come in and lead the team without having to worry about, 'Well, this coach did it this way, or the program has done this before—why are we doing it this way?' It's a little bit cleaner for me."
Building Teams
Coaches show up and coach, and swimmers practice and compete at meets—but as much procedural and logistical planning go into forming a swim team and making all the essentials happen, none of that produces team chemistry.
No, the swimmers don't all have to be best friends, but there must exist some cohesiveness or else the entire experience would be miserable for all those involved. And swimmers unhappy with their team dynamics rarely become faster swimmers.
Davis has spent more than a decade preaching positivity and camaraderie as a swim clinician, but with no upperclassmen present to emerge as the team's leaders, he found himself frequently repeating his messages over the first weeks of the season.
"That's really all I can do—be as positive and creative and engaging as I can. Hopefully, that just translates," Davis said. "We're trying to establish that we're a team that takes care of each other, looks after each other and also a team that takes care of business."
But for all the encouragement a coach provides, that type of culture-building can only happen organically, and it takes time.
At Peace, Bloom saw the team develop real unity for the first time when the swimmers had a Thursday and Friday off school in October for fall break. That Saturday, the team traveled to its first meet.
"They really got to spend a lot of time together," she said. "Our first trip was three hours away—and I'm the bus driver, by the way—so we had meals together, and we had that trip together, and by the time we got back on Saturday, it was a pretty cool experience. When I dropped them off Saturday night when we got back, they were all going to get food somewhere together."
Meanwhile, in his first season coaching at Anderson, Snare hoped "lightning in a bottle happens." It didn't—cliques ended up developing among his team of 21 swimmers, and team chemistry and morale suffered. But come year two, his returning swimmers committed to making significant changes.
"This year, our returners had a sense of purpose. They had a sense of, 'This is what my team can be.' Our sophomores and up took a sense of ownership took a sense of, 'We want to make this something special, and we have stock in how the team does now,'" Snare said.

"Some people who have come back and said, 'I don't have time for that. I don't have time for cliques, popularity—I'm here to do my job, and my job is to swim.' That attitude has proven to be pretty infectious this year."
Welcomed with Open Arms
In an era where so many college swim programs know that, given the right financial circumstances, they could be deemed expendable, it's nothing but refreshing to hear the coaches at William Peace, at Virginia Wesleyan, at Oklahoma Christian and at Anderson explain how their new teams have been embraced.
In fact, adding swimming was high on the priority list for Dr. Brian Ralph when he took over as President of William Peace in 2015. He had previously worked at Queens University in Charlotte, N.C., where the school had teamed with SwimMAC Carolina to begin Queens' now-highly successful swimming program.
When Ralph arrived in Raleigh, he sought out Chad Onken, head coach of the YMCA of the Triangle Area, with the intention of building a swimming program. And less than two years later, the team has already competed in meets.
Not bad knowing your team has the full support of the university president. It's much of the same at Anderson, where the team lends their president a lane to swim in during Tuesday and Thursday morning practice.
As far as other supporting elements swim teams need to be successful, how about competition? That's been a slight issue at Peace, since the USA South Conference does not offer swimming, so the school is working towards finding a conference for the swim teams to compete in.
For Davis at Oklahoma Christian, he's operating on a budget that does not allow flying to competitions, so he's had to find meets where the team can take a bus. And in the state of Oklahoma, there's only one other college swimming program: Oklahoma Baptist.
And as it turned out, the OBU Bison were more than happy to welcome the OC Eagles to the Sooner State.
"Can't say enough great things about (head coach) Sam Freas at Oklahoma Baptist, our main friendly rival," Davis said. "Our first meet ever was at OBU in Shawnee, Oklahoma, with Tabor College and Barton College. Tabor has been around for a while, and Barton is brand new also, so that was cool to have them there and race each other, being both first-year teams."
Many teams don't get to host any of their own meets in year one, and Anderson was among those teams. But in year two, the team welcomed Franklin and Illinois Tech for their first-ever home meet on Oct. 21. For that debut meet, the fans came out in droves.
"Standing room only," Snare said. "To look up and see our little balcony seating area packed, I can't adequately describe it. This is my third year here, and that was one of the most rewarding things.
"In the three years that I've been here, that's what all of the work has been for, to see this place packed out for a swim meet."