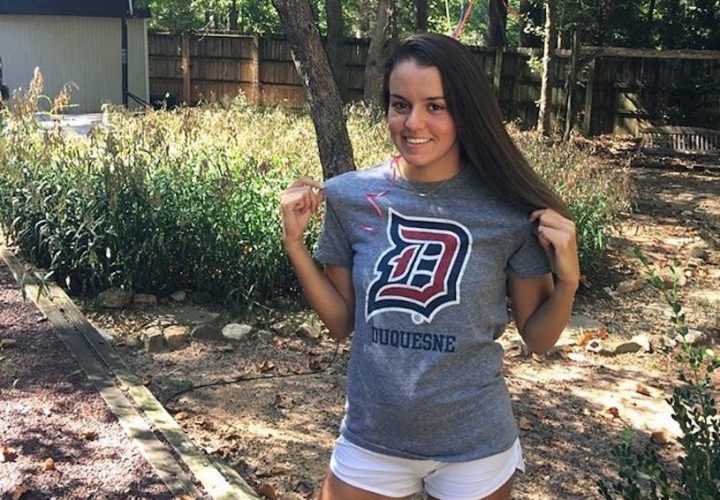 Photo Courtesy: Sophie Perez (Instagram)
NEW COMMIT: Speedo Winter Juniors qualifier Sophie Perez has announced her verbal commitment to swim for Duquesne University.
Perez competes for East Chapel Hill High School in Chapel Hill, NC. At the 2017 NCHSAA 4A State Championships Perez finished eighth in the 200 IM (prelims–2:06.08) and 15th in the 100 free (prelims–52.94). Perez also swam the fly leg on the team's 200 Medley Relay (26.06) and led off the 400 Free Relay (53.98).
Perez does her year-round swimming for the North Carolina Aquatic Club. She enters her senior year coming off a strong long course season, having finished the summer at the 2017 Aquatica Summer Splash with lifetime bests in the 100 back (1:06.25), 200 back (2:20.69), 200 fly (2:18.35) and 200 IM (2:24.82).
Top SCY times:
100 free—52.53
200 free—1:51.13
500 free—4:56.74
1000 free—10:18.90
100 back—57.05
200 back—2:00.40
100 fly—56.38
200 fly—2:02.30
200 IM—2:05.83
400 IM—4:26.19
Given her tremendous versatility, Perez will provide the Duquesne coaching staff with a range of event options. At the 2017 Atlantic 10 Conference Championships Perez's best times would have earned her a place in the A finals in the 500 free, 400 IM, 200 free, 100 fly and 200 fly.
Perez's path to Pittsburgh follows that of her former NCAC teammate Sam Ray (Class of 2016) who holds the school's 100 free record and was member of the record-setting 200 and 400 freestyle relays.