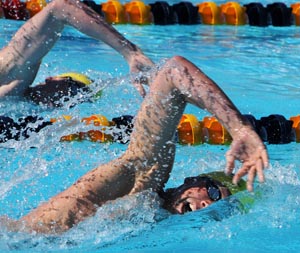 KEY LARGO, Florida, January 3. DUKE University and University of Michigan took top honors in the women and men's divisions respectively Saturday at the Orange Bowl Swimming Classic in the Florida Keys.
Duke's lady swimmers amassed 569 points to edge Rutgers University with 554 and George Mason University with 477 at the Jacobs Aquatic Center.
"We knew coming into the Classic, that Rutgers would be a great meet for us," said Duke coach Dan Colella. "Our young ladies stepped up today and had some really nice swims."
Michigan dominated the men's division scoring 703 point, easily beating Duke's men's team with 556 and third-place George Mason with 435.
"Wins are always good," said Michigan men's swimming coach Mike Bottom. "Our guys are tired (from training), but the most important thing is that they had a great time."
The Classic, which featured eight university teams, was a highlight of a winter training season for collegiate teams in the Keys.
Other teams that participated included Stony Brook University, Washington College, College of St. Benedict and Western Connecticut State University.
Besides 215 collegiate participants, several Olympic swimmers competed in exhibition events including Peter Vanderkaay, who won a gold medal for the United States while swimming with Michael Phelps in the 4×200-meter freestyle relay winner in the 2008 Beijing Olympics.
Special thanks to the Orange Bowl Classic for contributing this report.