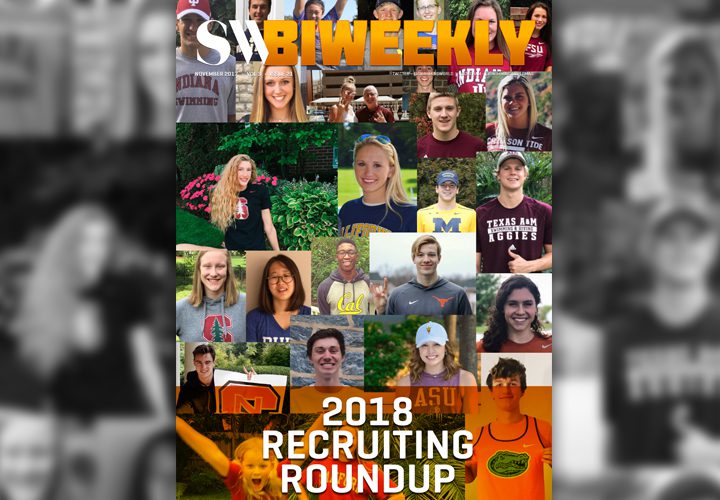 Agon is the proud sponsor of all high school coverage (recruiting, results, state championships, etc.) on SwimmingWorld.com. For more information about Agon, visit their website AgonSwim.com.
To report a college commitment, email HS@swimmingworld.com. Join Swimming World's Watch List
Current subscribers can visit the Swimming World Vault to download the issue now! Non-Subscribers can download for FREE by Clicking Here
ABOUT THIS SPECIAL SWIMMING WORLD BIWEEKLY ISSUE
Each fall, college swimming coaches and the athletes on their teams put their best foot forward to show prospective athletes what their programs have to offer. High school seniors set off across the country—often traveling alone for the first time—to evaluate these teams and schools. At the end of an often exhausting few weeks of back-to-back overnight visits, these high school seniors will then have the opportunity to decide where they would like to swim, live and study for the next four years.
Once a coach offers a scholarship, a spot on the team or some support in the application process, the athletes are ready to make a final decision. Once that decision is made, many seniors will proudly share the news on social media—usually with a photo of themselves sporting their new college T-shirt!
Over the past few months, Swimming World has been delighted to hear from swimmers who have shared their pride, excitement, joy—and relief—as they announced their verbal commitments.
For some, this decision is the fulfillment of a lifelong dream. Many have also realized their untapped potential and the countless opportunities that lie ahead. Other athletes have reflected on the difficulty of the recruiting and decision process, but are confident that they have found their new home.
With the start of the early signing period for National Letters of Intent less than two weeks away, Swimming World proudly presents a sampling of these unofficial commitments made by members of the high school Class of 2018.
A few recruits might make an immediate impact on the national stage, while others are set to contribute to their team's success at the conference level. The swimmers will enter their training groups with a mix of experience and a fresh perspective, ready to reach the next level.
Congrats to the high school Class of 2018—and the new college Class of 2022!
~ Cathleen Pruden, High School Content Manager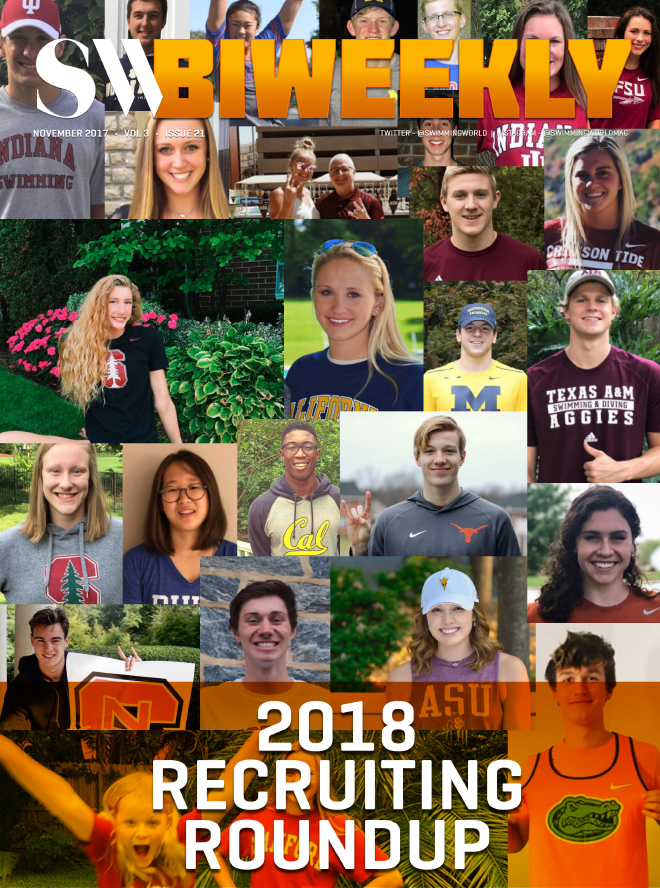 Save 25% on a 1 year subscription and download more issues from the Swimming World Vault and get the following:
Use Coupon Code: realnews and save 25%
A monthly print copy of Swimming World Magazine in the mail for 1 year!
Free download of the next 12 issues and the past 12 issues of Swimming World Magazine!
Free download of next 24 issues and the past 24 issues of Swimming World Biweekly!
Free download of next 4 issues and the past 4 issues of Swimming Technique Magazine!