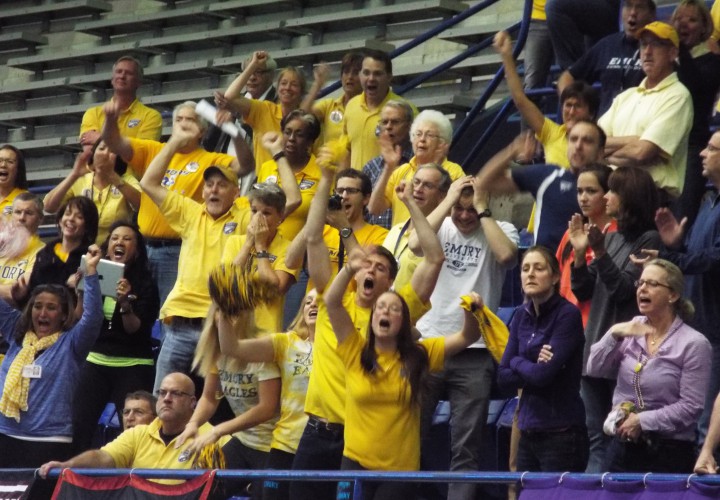 Editorial content for the 2018 NCAA DIII Championship coverage is sponsored by TritonWear. Visit TritonWear.com for more information on our sponsor.
The ballots are in and the votes counted for the CSCAA / TYR Top 25 Preseason Poll for NCAA Division III Swimming. The Emory University women's team and Kenyon College men's team gathered the most votes.  The poll aims to measure the top teams in head-to-head competition.
The rankings are voted on by CSCAA-member coaches andscheduled for release November 15, December 20, January 17 and February 7.
Division III Men
| Rank | | Team | Points |
| --- | --- | --- | --- |
| 1 | | Kenyon | 244 |
| 2 | | Emory | 242 |
| 3 | | Denison | 232 |
| 4 | | MIT | 217 |
| 5 | | Johns Hopkins | 214 |
| 6 | | WashU | 188 |
| 7 | | Chicago | 178 |
| 7 | | NYU | 178 |
| 9 | | Williams | 176 |
| 10 | | Tufts | 160 |
| 11 | | Rowan | 148 |
| 12 | | Carnegie Melon | 139 |
| 13 | | DePauw | 117 |
| 14 | | Claremont-Mudd-Scripps | 114 |
| 15 | | TCNJ | 106 |
| 16 | | Amherst | 102 |
| 17 | | Birmingham Southern | 79 |
| 18 | | Wabash | 75 |
| 18 | | WPI | 75 |
| 20 | | Pomona-Pitzer | 71 |
| 21 | | Conn College | 59 |
| 22 | | Carthage | 51 |
| 23 | | Saint Thomas | 27 |
| 24 | | Swarthmore | 21 |
| 25 | | Case Western | 14 |
Also Receiving Votes: Albion 9, Coast Guard 4, Washington & Lee 4, Stevens 2, UW-Stevens Point 2, Pacific Lutheran 1
MEN'S REGIONAL RANKINGS
Central
Kenyon
Denison
Chicago
DePauw
Wabash
Carthage
Saint Thomas
Case Western
UW-Stevens Point
Calvin
Northeast North
MIT
NYU
Williams
Tufts
Amherst
WPI
Connecticut College
U.S. Coast Guard Academy
RPI
Bates
West Midwest South
Emory
Johns Hopkins
Washington University (Mo)
Claremont-Mudd-Scripps
Birmingham Southern
Pomona-Pitzer Colleges
Washington and Lee
Pacific Lutheran
Rhodes
California Lutheran
Northeast South
Rowan
Carnegie Mellon
TCNJ
Swarthmore
Stevens
SUNY-Geneseo
Gettysburg
Grove City
Ithaca
Ursinus
Division III Women
| Rank | | Team | Points |
| --- | --- | --- | --- |
| 1 | | Emory | 225 |
| 2 | | Williams | 215 |
| 3 | | Kenyon | 208 |
| 4 | | Denison | 198 |
| 5 | | NYU | 189 |
| 6 | | MIT | 172 |
| 7 | | WashU | 167 |
| 8 | | Johns Hopkins | 166 |
| 9 | | Chicago | 160 |
| 10 | | Conn College | 135 |
| 11 | | Saint Thomas | 127 |
| 11 | | Amherst | 127 |
| 13 | | Washington & Lee | 122 |
| 14 | | Carnegie Mellon | 99 |
| 15 | | Middlebury | 93 |
| 16 | | Claremont-Mudd-Scripps | 88 |
| 16 | | Bates | 88 |
| 18 | | Ithaca | 72 |
| 19 | | Pomona-Pitzer | 56 |
| 20 | | UW-Eau Claire | 52 |
| 21 | | UW-La Crosse | 42 |
| 22 | | Ursinus | 28 |
| 23 | | RPI | 19 |
| 24 | | Calvin | 17 |
| 25 | | Mary Washington | 16 |
Also Receiving Votes: Wheaton (IL) 11, Rochester 11, Bowdoin 10, SUNY Geneseo 9, Albion 3
WOMEN'S REGIONAL RANKINGS
Central
1    Kenyon
Denison
Chicago
Saint Thomas
UW-Eau Claire
UW-La Crosse
Calvin
Wheaton College (Illinois)
Saint Olaf
Gustavus Adolphus
Northeast North
Williams
New York University
MIT
Connecticut College
Amherst
Middlebury
Bates
RPI
Bowdoin
Springfield
West Midwest South
Emory
Johns Hopkins
Washington University (Mo)
Claremont-Mudd-Scripps
Birmingham Southern
Pomona-Pitzer Colleges
Washington and Lee
Pacific Lutheran
Rhodes
California Lutheran
Northeast South
Carnegie Mellon
Ithaca
Ursinus
SUNY-Geneseo
Rochester
Grove City
Stevens
Rowan
Susquehanna
Gettysburg