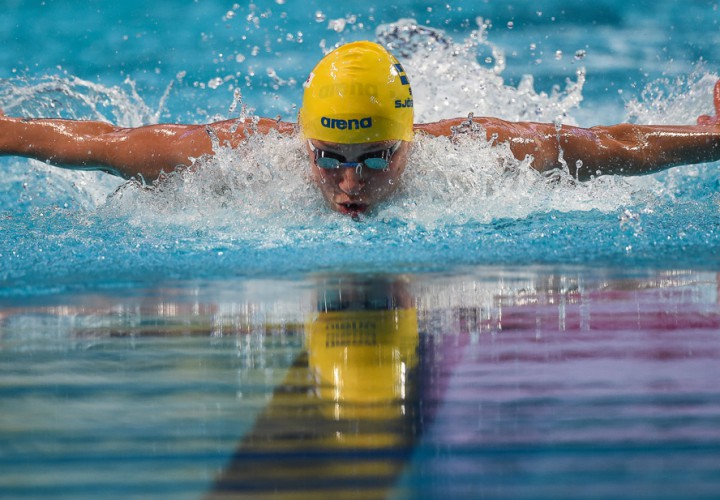 Photo Courtesy: R-Sport / MIA Rossiya Segodnya

Editorial Coverage Sponsored By FINIS
By David Rieder
Sarah Sjostrom will attempt a daunting schedule at the Olympics with legitimate medal hopes in four individual events plus relays, in which she will be key to any Swedish medal hopes.
The 200 free figures to be one of the best races of the week as Sjostrom faces off with Katie Ledecky and Federica Pellegrini, and in the sprints Sjostrom will have to fend off speedy Australian sisters Cate and Bronte Campbell.
But Sjostrom is the clear favorite in the 100 fly—no one has swum within seven tenths of a second of her best time this year.
Sjostrom has won three of the last four world titles in the event. In Rome in 2009, Sjostrom came in as the European champion but still a relative unknown at just 15 years old after not making the semifinals in any event at the Olympics in Beijing.
Rome, of course, was the World Championships of the polyurethane bodysuits that helped athletes set 42 world records over the week, and the very first came in the second semifinal of the women's 100 fly, when Sjostrom touched in 56.44 to break Inge de Brujin's nine-year-old world record of 56.61.
Watch that video again, and note how far back Sjostrom is at the turn. That is even while swimming next to Jessicah Schipper, a two-time World Champion in the 200 fly. Sjostrom's first 50 split of 27.12 was 12th out of 16 semifinalists, and then she came home in 29.32— in comparison, the next best homecoming split was Aurore Mongel's 30.21, and de Brujin's world record split had been 29.94.
A day later in the final, Sjostrom was seventh at the 50, and then she came home in 29.12 on her way to a 56.06 and her first World title.
Yes, I know—the suits. They made a difference and clearly enhanced performance. But Sjostrom still overcame an awful start (0.85 RT) and lack of raw power (remember, she was just 15 at the time) with closing speed a full half-second faster than what anyone had ever done before or did in that final.
With the high-tech suits banned months after the Rome Worlds, Sjostrom unsurprisingly saw her times come back down to Earth. She was consistent but unspectacular, falling to fourth in the Olympic final as Dana Vollmer cracked her world record with a 55.98. Sjostrom ended up fourth in 57.17, two tenths away from a bronze medal.
Vollmer went out well under world record pace in 26.39 and came home in 29.59 to just squeak under Sjostrom's time. Remarkably, she had never even split under 30 prior to the Olympics—her previous American record of 56.42 from the U.S. Olympic Trials a month earlier was split 26.42/30.00. While still not as fast as Sjostrom's suit-aided splits, Vollmer's newfound back-half speed got her down to the elusive world record.
One year ago at the World Championships, Sjostrom took the mark back from Vollmer. A 55.74 effort in the semifinal easily eclipsed Vollmer's mark from London, and, unsurprisingly, it was the second lap that was the difference as Sjostrom finally recaptured the type of closing speed that first made her famous in Rome. She went out in 26.46 and came back in 29.28.
Sjostrom came out in the final as the obvious favorite, and she actually had the lead at the 50—the first time she has ever done so in the final of a major competition—even if it was just by seven one-hundredths over Jeanette Ottesen. Of course, she ended up breaking the world record again with a 55.64.
Watch this one, and you'll notice how quickly Sjostrom's narrow lead at the 75 ballooned to a full bodylength—and then more. And that's with a 29.47 final split that's very routine by her standards—but of course still faster than what anybody else has ever done.
That's why Sjostrom will be the heavy favorite for gold in the 100 fly at the Olympic Games next month.
At the U.S. Olympic Trials, Kelsi Worrell posted the fastest time that anybody besides Sjostrom has swum since 2012 with a 56.48, putting herself in the medal conversation for Rio. Afterwards, Worrell admitted that coming home under 30 was a big goal in that race, and thus a 29.97 split was a big deal. Sjostrom routinely splits a half-second faster.
Vollmer finished second at Trials to secure the chance to defend her gold medal, but she will have to go much faster in Rio to even have a shot at a medal. Again, look at the splits: Vollmer was out in 26.23, faster than she was in London, but came home in a sluggish 30.98.
So Sjostrom has become the dominant 100 butterflyer in the world with closing speed on a different level from any of her competition—sounds like Michael Phelps, right?
Sort of. Phelps' back-half splits have bailed him out from big deficits over and over again throughout the years—he was seventh at the halfway point of his 100 fly gold medal-winning swim in Beijing—but that is to be expected from a guy like Phelps. For all of his versatility and accomplishments in so many events, the 200 fly was always his most natural fit. A 200 flyer with an excellent back half to the 100? Makes sense.
But Sjostrom is very much a sprinter. In 2014, she clobbered the world record in the 50 fly by an unbelievable six tenths of a second, getting down to a 24.43. Phelps, in comparison, has never even bothered with competing in the 50 fly, knowing that his lack of pure speed would prevent him from doing much of anything in that event.
Sjostrom has the speed, but she manages to save her real burst for when it matters most—the last 25 meters. Whereas for most sprinters (like the aforementioned Ottesen) there's no use in saving up because they are going to fade regardless, Sjostrom has the athleticism and body control to pull off the save-up in the 100 fly.
In Rio, Sjostrom will have some of the best back-half speed in the 100 free final—if she can stay close enough to Cate Campbell to make a difference—and enough pop in her stroke to hang with Ledecky in the 200 free. But the 100 fly is the best showcase for her unique talents, and it would be a huge shock if she does not mint gold in that event.