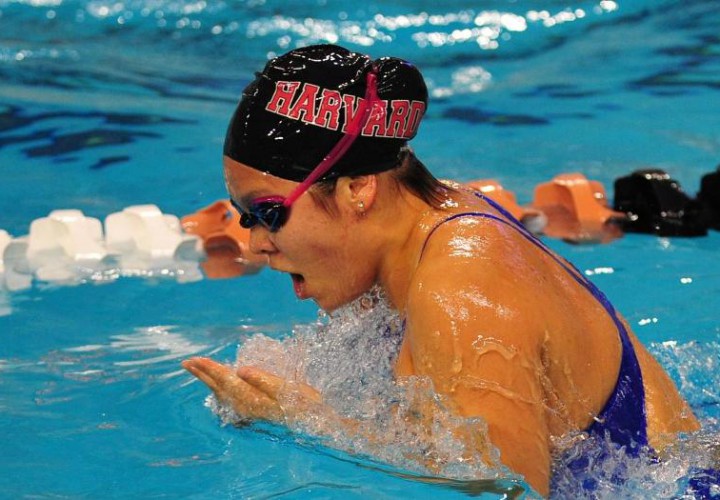 Photo Courtesy: Harvard Athletics
After being tied at 118 points on night one of the 2018 Ivy League Swimming & Diving Championships, Harvard pulled away from Yale after night two with 545 points. The Bulldogs are not far behind with 503 as is Princeton with 472. The University of Pennsylvania moved up from sixth to fourth with 295 points and is currently followed by Columbia (222), Cornell (212) and Dartmouth (164).
The Ivy women competed in the 500 Freestyle, 200 IM, 50 Freestyle, 1-Meter Diving and 4 x 50 Freestyle Relay on night two. Competition resumes tomorrow at 11 a.m. with the 400 IM, 100 fly, 200 Freestyle, 100 Backstroke, 100 Breaststroke, 1000 Freestyle and 3-Meter Diving. Heat Sheets for the day two prelims are available here.
500 Freestyle
Penn's Virginia Burns grabbed a win from the top two teams by taking the 500 freestyle in 4:43.42 – a season best by about two seconds for the senior. She led the race from start to finish, completing a clean sweep of this event throughout her four years in the Ivy League.
While Harvard's Michelle Owens took runner-up honors in 4:46.25, Yale unleashed a three-four-five punch in the final to secure valuable points for the Bulldogs. Sophomore Kendall Brent (4:47.35), senior Cailley Silbert (4:47.44) and sophomore Sophie Fontaine (4:48.00) were dominant for Yale.
Harvard's Kennidy Quist was next in 4:48.03, while Penn's Madison Visco (4:51.76) and Princeton's Monica McGrath (4:53.36) rounded out the Championship final. The Crimson also added tenth, eleventh and sixteenth place finishes from the B final while Yale's Danielle Liu was twelfth. Penn also had three swimmers in the B final, surging them up the overall rankings.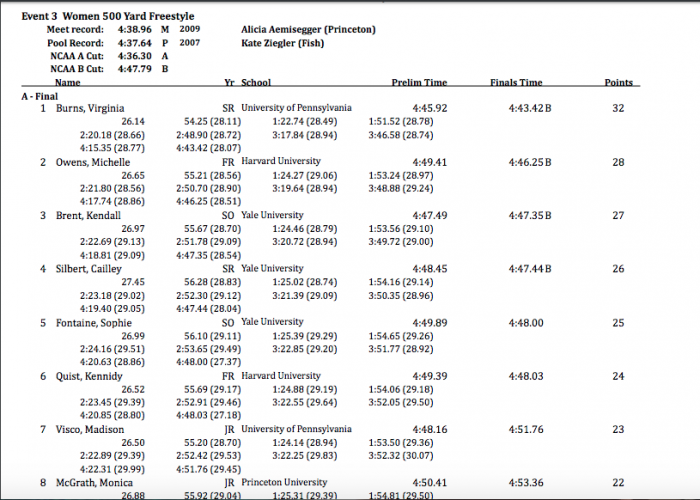 200 IM
Harvard made their move in the 200 IM as senior Geordie Enoch won the title coming in at 1:59.67. Enoch won back her title from 2015 after finishing fourth and seventh, respectively as a sophomore and junior in this event. The top four swimmers were only six-tenths of a second apart at the 150 mark, but Enoch was able to out-split the field in the final leg coming home in 28.07.
Teammate Meagan Popp earned silver after winning the event for the last two years. Regardless, the two tallied up 60 points for the Crimson with their efforts. Popp recorded the fastest breaststroke split in the field in 34.86 and will be looking to score big in these events later on in the week.
A trio of other swimmers also earned NCAA 'B' cuts as Princeton's Joanna Curry took third in 2:00.12, Yale's Destiny Nelson was fourth (2:00.44) and Princeton's Isabel Reis was fifth (2:00.58). Cornell's Sarah Baturka broke up the Princeton domination in this heat at 2:02.14 while Tigers Lindsay Temple (2:02.69) and Regan Barney (2:02.77) placed seventh and eighth.
Yale added ninth, tenth and fifteenth-place points to their total in the B final to help balance out Harvard's dominance in this event. Brown's Han Nguyen finished twelfth setting a new program record in 2:02.11. The previous mark has stood since 2000.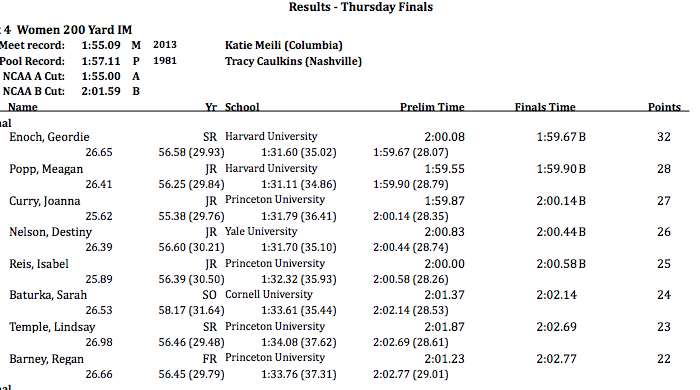 50 Freestyle
Yale's Bella Hindley kept her undefeated Ivy sprint freestyle streak alive by winning the 50 in 22.40. This is the third year in a row that she has topped the podium in this event. Princeton's Madelyn Veith was next in 22.83 followed closely by Harvard duo Mei Lynn Colby (22.84) and Ingrid Wall (22.94). Brown's Maddie Salesky also dipped under 23 for fifth in 22.98.
Columbia's Mary Ashby (23.05), Penn's Wendy Yang (23.19) and Harvard's Jerrica Li (23.24) rounded out the heat. Bulldog senior Maddy Zimmerman dominated the B final with an NCAA 'B' cut time of 22.97. She was the only swimmer in the heat to break 23.

1-Meter Diving
While Harvard's depth throughout the night kept them in the game, it was their diving strategy that gave them the advantage. While Yale (and most teams) competed three divers, Harvard entered six. Despite a one-three finish from Yale's Nikki Watters and Hannah Walsh, the Crimson walked away with 132 points while Yale earned 76.
The Harvard quartet of Mikaela Thompson, Alisha Mah, Katie Russ and Jing Leung finished second, fourth, fifth and seventh while Princeton pair Natasha MacManus and Sophia Peifer were sixth and eighth.

4 x 50 Freestyle Relay
Despite Hindley taking an early lead for Yale in the 4 x 50 Freestyle Relay, Harvard's depth in this event left them in first place with a winning time of 1:30.50. The swim was good for a new pool record and was just off the meet mark. Sophomore Miki Dahlke got it done for Harvard splitting a 22.33 anchor leg after diving in just .03 ahead of Claire O'Mara and Yale. Additionally, the Crimson relay was comprised of three sophomores and one freshman, so this is just the beginning for the group.
Brown's team of Maddie Salesky, Taylor Seaman, Jessie Blake-West and Marley Cross set a new program record in 1:31.21 in route to a third place finish. Penn did likewise with their time of 1:32.10, besting their school's previous record of 1:32.36 which featured Ivy League legends Rochelle Dong and Shelby Fortin.