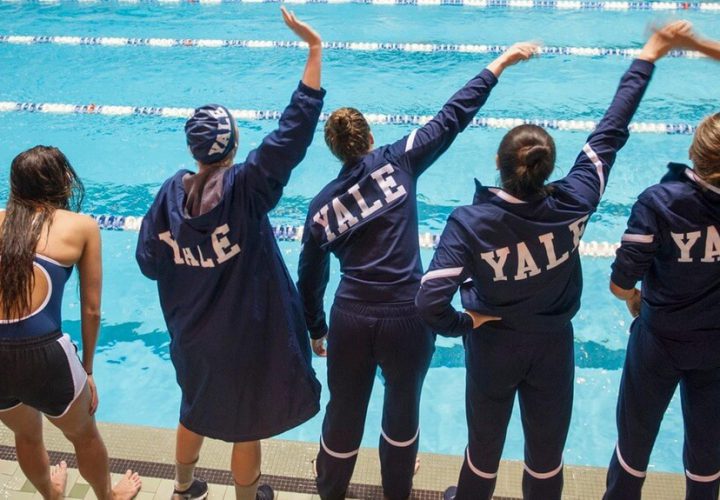 Photo Courtesy: Yale Athletics
Defending Champion Yale found themselves tied with Harvard at 118 points after night one of competition at the 2018 Women's Ivy League Championships. Princeton is close behind in third with 112 points followed by Brown (102), Columbia (100), Pennsylvania (96), Cornell (92) and Dartmouth (90).
Both the 4 x 50 Medley Relay and 4 x 200 Freestyle Relay were competed on night one, resulting in two new meet and pool records. Competition resumes tomorrow at 11 a.m. with the 500 Freestyle, 200 IM, 50 Freestyle and 1-Meter Diving. Heat Sheets for the day two prelims are available here.
4 x 50 Medley Relay
The Bulldogs started off the night by dominating the 4 x 50 Medley Relay with an NCAA 'B' cut and meet, pool and school records. They finished with a final time of 1:37.30. Each swimmer raced to the fastest respective split in the field as senior Heidi Vanderwel was the only backstroker under 25 seconds (24.81) and junior Bella Hindley was the only competitor to break the 22-second mark (21.62).
Harvard's team of Mei Lynn Colby, Ingrid Wall, Brittany Usinger and Jerrica Li were in the mix through the 150 mark, but the team could not withstand Yale's back half to hang on for the win. Colby (25.00) and Wall (27.65) posted notable splits for the Crimson. The team finished third in 1:39.74, just .24 seconds off the school's record.
Princeton seniors Elsa Welshofer (fly – 23.72) and Madelyn Veith (free – 22.10) put the Tigers back in the race to earn runner-up honors and a new school record.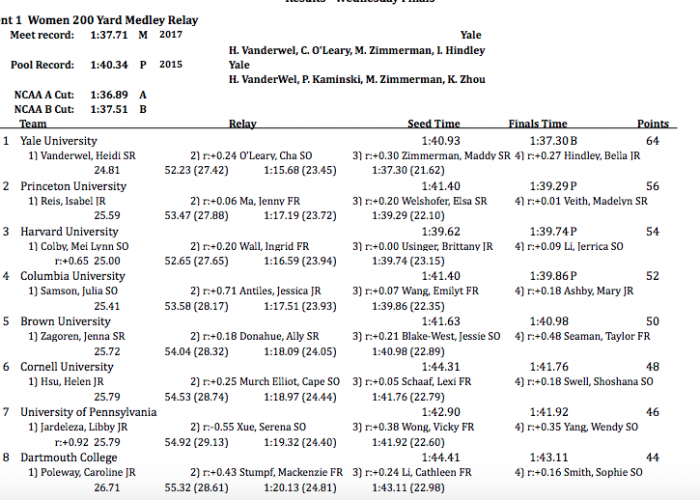 4 x 200 Freestyle Relay
While they could not pull off the win in the medley, Harvard crushed their school, meet and pool records while setting an NCAA 'B' cut time in the 4 x 200 Freestyle Relay. Sophomore Miki Dahlke started the race off with a quick 1:45.00 followed by a 1:45.98 from freshman Kennidy Quist, a 1:47.89 from senior Geordie Enoch and a 1:46.19 from junior Meagan Popp. The women combined for an overall time of 7:05.06.
Princeton was able to hold off for second this time around, coming in at 7:08.58. They maintained this position from Isabel Reis' 1:46.97 leadoff to Monica McGrath's 1:46.76 anchor leg. The swim annihilated their program record of 7:12.53 set in 2008. Yale was a distant third in 7:12.51.
Brown University (7:13.49) and Cornell University (7:25.27) finished fourth and eighth, respectively, each setting new program records by about one second.