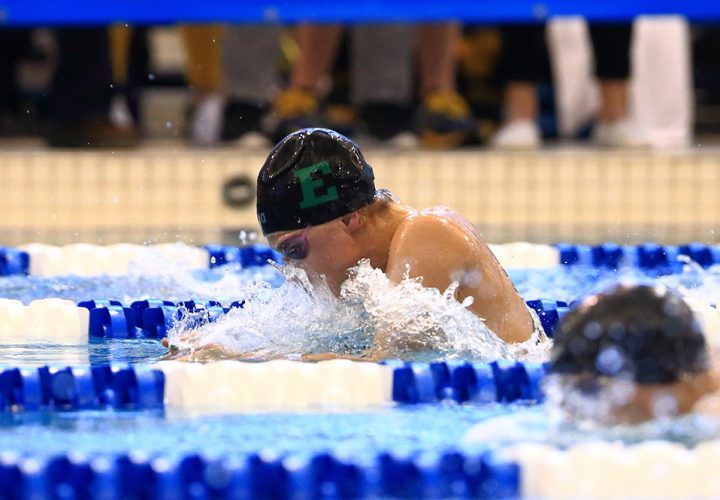 Photo Courtesy: Eastern Michigan Athletics
Eastern Michigan's Delaney Duncan stole the show on night three of the 2018 Women's Mid-American Conference Championships. The junior won the 100 breast in 58.37, which ranks as the fourth-fastest time in the NCAA this year.
Heading into the final day of competition, Akron leads with 539.5 points followed by Eastern Michigan (363.5), Buffalo (353), Miami Ohio (344), Bowling Green (247), Toledo (197), Ohio (179) and Ball State (116).
All results can be found on Meet Mobile – 2018 Women's MAC Championship.
Women's 400 IM
Eastern Michigan's Nicole Swartz began the night by winning gold in the 400 IM after knocking off nearly four seconds from her prelims time. The junior, who finished fifth in this event last year, stopped the clock in 4:14.08 to make this her first individual MAC Championship title.
Akron took second and third in this event: Jackie Pash earned the silver in 4:14.98 and Mackenzie Vargas grabbed the bronze in 4:16.95.
Toledo's Maca Garcia Garay (4:18.48), Buffalo's Brittney Beetcher (4:20.15), Miami Ohio's Carolyn Jungers (4:20.62), Miami Ohio's Holly Schuster (4:21.16) and Ohio's Sam Glass (4:24.63) completed the top heat.
Women's 100 Fly
Akron's Sadie Fazekas found herself at the top of the podium for the second-straight year in the 100 fly. The junior touched the wall in 52.79 for the win.
Akron took the top two spots after Paulina Nogaj finished a close second behind her teammate in 52.99. Ohio's Corrin Van Lanen took third in 53.31.
Akron's Alisa Tsypin (54.17), Bowling Green's Sarah Hennings (54.82), Miami Ohio's Peyton Mosbaugh (54.97), Toledo's Eduarda Sales (55.17) and Miami Ohio's Kayleigh Cannon (55.19) rounded out the A-final.
Women's 200 Free
After winning the 500 free last night in record-setting time, Miami Ohio's Ella Moynihan again found herself in the same position. After taking third in this event last year, the junior finished the 200 free in 1:46.03, just sneaking under the previous MAC record of 1:46.07.
Buffalo's Megan Burns finished second in 1:47.19 while Ohio's Emily Zimcomsky took a close third in 1:47.69.
Toledo's Izzy Jones (1:47.90), Akron's Ellie Nebraska (1:49.14), Bowling Green's Franziska Wohlert (1:49.41), Buffalo's Hannah Miller (1:49.58) and Eastern Michigan's Amelia Armstrong-Grant (1:50.83) also swam in the fastest heat.
Women's 100 Breast
Eastern Michigan's Delaney Duncan dominated the 100 breast final en route to winning her third-straight MAC title in the event. The junior was the only swimmer under the one-minute barrier, finishing with a time of 58.37 to drop over three seconds from her time heading into this meet. Her time broke her own MAC record of 58.80 she set during prelims, is an NCAA A standard, and is the fourth-fastest time swum by a college female this season.
Akron took second and third in this event: Paloma Marrero took silver in 1:00.84 and Paula Garcia grabbed the bronze in 1:01.49.
Akron's Anne Lochridge (1:01.69), Miami Ohio's Elise Campbell (1:02.00), Miami Ohio's Holly Schuster (1:02.52), Bowling Green's Nicole Borgerding (1:02.59) and Toledo's Bec Welke (1:02.90) rounded out the A-final.
Women's 100 Back
Akron's Madison Myers cruised to first in the 100 back as the only swimmer under 53 seconds. The junior posted a final time of 52.77 for the win.
Eastern Michigan's Claire Young got to the wall second in 53.47 and her teammate Casey Gavigan took third in 54.17.
Miami Ohio's Izzy Herb (54.36), Buffalo's Andrea Ernst (54.99), Buffalo's Nicole Roitenberg (55.00), Toledo's Maureen O'Sullivan (55.64) and Bowling Green's Lauren Sullivan (55.79) also competed in the A-final.
Women's 3-Meter Diving
After finishing second in the 1-meter earlier this weekend, Miami Ohio's Pei Lin found herself on top of the podium in the 3-meter tonight. The senior won with a final score of 382.25.
Bowling Green's Talisa Lemke dove to second with 314.00 points and Eastern Michigan's Alli Shereda finished third with a total score of 311.25.
Eastern Michigan's Brielle Johnston (289.95), Eastern Michigan's Sophia Tsafantakis (284.95), Bowling Green's Claire Stam (283.55), Ball State's Rachel Bertram (280.20) and Akron's Karly Crail (274.45) also dove in the A-final.
Women's 4×100 Medley Relay
Akron's Myers (53.87), Marrero (1:00.03), Nogaj (51.98) and Fazekas (48.73) dominated the night's final event, winning with a time of 3:34.61.
Eastern Michigan's Young, Duncan, Emilie Desnoyers, and Chase Walker finished second in 3:39.45 and Miami Ohio's Herb, Campbell, Mosbaugh and Moynihan took third in 3:41.28.
Prelims will begin on Saturday at 10:30 a.m. EST.