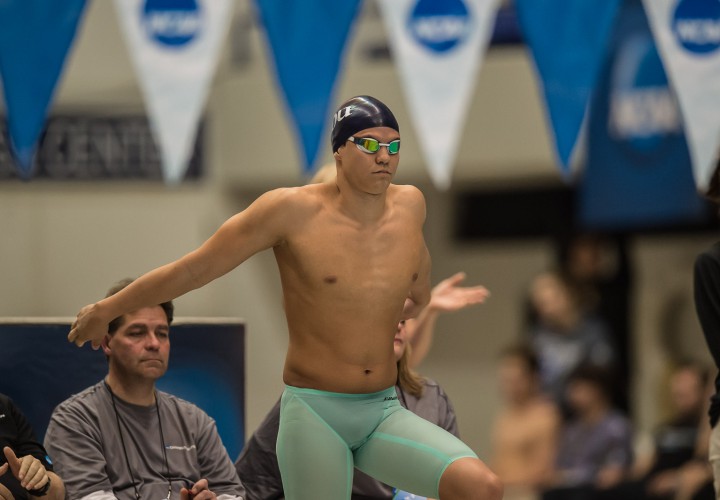 Photo Courtesy: Peter H. Bick
By Delaney Lanker, Swimming World College Intern
The Rocky Mountain Athletic Conference Championships began today at Colorado Mesa University in Grand Junction, Colorado. The winners of the 2015 RMAC Championships are looking to defend their title this year. For the women Cal Baptist were the meet winners and on the men's side, Lindenwood took home the Championship win.
Women's Meet
Starting off the women's meet strong was Erin Sutton from Lindenwood in the women's 200 IM. She went a 2:07.14 and is going into tonight's finals seeded first. Teammate Ewa Dymarek came in third with the time of 2:07.90. Alena Rumiantceva from Cal Baptist came in a close second with a 2:07.19.
In the 50 freestyle Mesa's junior Mary Saiz rocketed into first place. Seeeded without an entry time Saiz won the event in a 23.67. Western State's Randi Yarnell came in right behind Saiz with a 23.98 and Niki Dahl finished in third with a 24.01.
Men's Meet
Joshua Hanson from Cal Baptist won the men's 200 IM in a time of 1:48.34. Lindenwood's Felix Eigel came in second (1:50.69) and Josh Bedford of Mesa touched third with a 1:51.54.
In the men's 50 freestyle, Mesa finished the morning with two of the top three spots. Sky Hirsch won the event for Mesa with the time of 20.41. His teammate Justin Hastings came in third with a 20.79. Lindenwood's Serghei Golban came in second with a 20.63.
The men's and women's 1000 freestyle is a finals only event. The fastest heat will swim in finals tonight, while the other heats swam this morning with the rest of the prelims events.
Results available on Meet Mobile.