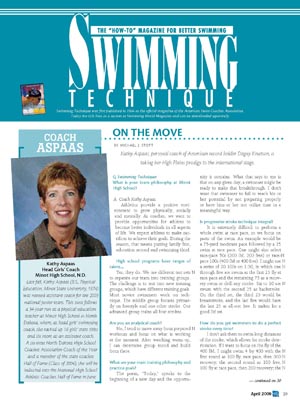 PHOENIX, Arizona, April 10. KATHY Aspaas, coach of rising star Dagny Knutson, is the subject of the current issue's question and answer feature in the Swimming Technique section.
Aspaas is the head coach of the girls swimming team at Minot High School in Minot, N.D. Her teams have amassed 16 state titles. In the interview, coach Aspaas talks about team philosophy, the utilization of different test sets in order for breaking her team down into training groups, the challenges of getting her athletes to achieve perfect stroke as well as discussing the use of alternative training sets among other topics.
Also included as part of the Swimming Technique section is a How They Train piece on Dagny Knutson. From this article, readers will be able to gain a true insight as to Knutson's training regimen. In this section are sample practice sets that Knutson utilizes in her workouts.
Click here to get your premium subscription, then visit the Premium Section to download this issue.
Click here for a preview of the other multimedia items available in the April issue.
This issue is truly interactive with nearly 100 links for Premium Subscribers to get the rest of the story, results or even visit the web sites of Swimming World Magazine's advertisers.
Become a Premium Member Today to take advantage of these great digital versions of Swimming World Magazine.
April 2009 Issue
Contents of The April issue:


7 THE NEXT WAVE by Jason Marsteller
At the Junior Pan Pacific Championships in Guam, the USA's Dagny Knutson led an impressive showing of junior-level swimmers who represent the next wave of world-class swimming.
10 CELEBRATING 50+ YEARS IN AQUATICS: 1969-72 by John Lohn
As we celebrate 50+ years in aquatics, Swimming World Magazine will be taking a trip through history, highlighting some of the top moments of the magazine's existence.
12 THEN AND NOW by John Lohn
Although they competed some 30 years apart, Americans John Naber and Aaron Peirsol are both considered two of history's best backstrokers.
14 RUSH TO ROME by Eric Velazquez
The U.S. diving squad is assembled and ready for this year's World Championships to be held this summer in Rome.
Departments:
6 A VOICE for the SPORT
40 FOR THE RECORD
43 CALENDAR
46 PARTING SHOT
In the Swimming Technique portion of the magazine you will find the following:

29 Q&A WITH COACH KATHY ASPAAS by Michael J. Stott
31 HOW THEY TRAIN: Dagny Knutson by Michael J. Stott
32 KEYS TO MORNING QUICKNESS by Michael J. Stott
The common denominators for swimming fast in the morning are setting expectations as well as modeling consistency in practice and meet management behavior.
34 EVALUATING ENERGY ZONES IN SWIMMING by Genadijus Sokolovas
In the SWIM portion of the magazine you will find the following:


19 THE WORLD'S BEST MASTERS by Emily Sampl and Jason Marsteller
Swimming World Magazine's Top 12 World Masters Swimmers of 2008 hail from four countries and range in age from 31 to 95.
25 THE POOL'S EDGE: Life Skills Learned at the Pool
by Karlyn Pipes-Neilsen
26 THE WORKOUT CARD: My Favorite Workouts by Carolyn Boak
28 LANE LEADERS: Dave Sims by Emily Sampl
In the Junior Swimmer portion of the magazine you will find the following:
36 NATIONAL AGE GROUP RECORD SETTER: Arthur Frayler
37 SPEEDO AMERICAN RELAY by Judy Jacob

Free Shipping in the USA