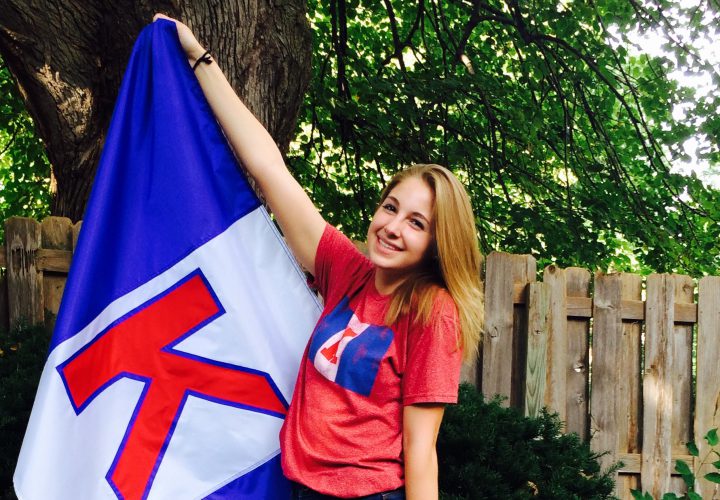 Photo Courtesy: Crissie Bloomquist
Agon is the proud sponsor of all high school coverage (recruiting, results, state championships, etc.) on SwimmingWorld.com. For more information about Agon, visit their website AgonSwim.com.
Crissie Blomquist has given the University of Kansas another verbal commitment to the class of 2021. Lauryn Parrish, Ellie Flanagan, and Caroline Schultz will also join her on campus in the fall.
"Rock Chalk! I am so excited to be a future Jayhawk!" Blomquist told Swimming World.
Blomquist swims for Empire Kansas Swim Club under Bobby Mattin. With the club, she has developed into a strong freestyler, with Junior Nationals cuts in the 200, 400, and 800 freestyle.
Blomquist's best times Yards/Meters:
100 Free: 51.96/58.68
200 Free: 1:50.83/2:04.35
500/400 Free: 4:53.87/4:18.78
800 Free: 8:59.37
1650 Free: 17:02.84
The high school senior swims for Shawnee Mission East High School. Blomquist led the Lady Lancers to the 6A State Title last season, as she took gold in the 200 and 500 freestyle. Blomquist was also on the winning 200 and 400 freestyle relays. Additionally, she holds school records in the 100, 200, and 500 freestyles and is on both record holding freestyle relays. She is also a two time USA Swimming Scholastic All American.
Blomquist will be an immediate scoring presence in the Big 12. She would have finished seventh in the 500, fifth in the 1650, 10th in the 200 freestyle, and 13th in the 100 freestyle at last year's meet. Parrish (1:47.64) and Flanagan (1:51.22) will give her 200 freestyle training partners in her own class.
To report a college commitment email HS@swimmingworld.com.