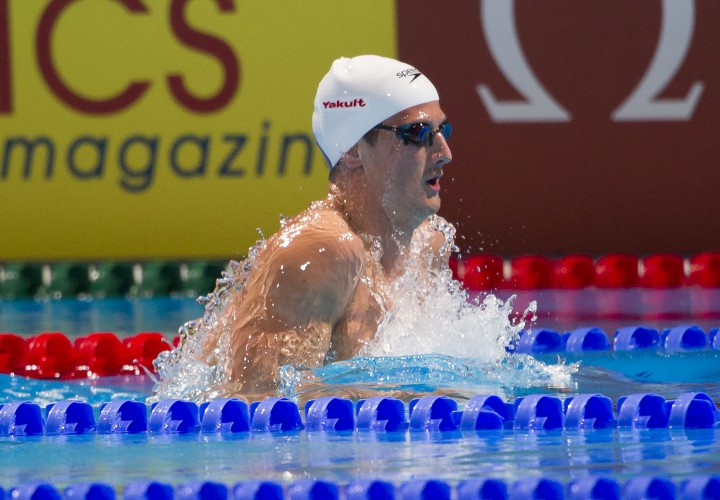 MANCHESTER, England, June 27. THE third morning finals session at the British Gas International featured more athletes on Commonwealth Games squads getting in some final preparation before heading to Glasgow to race some of the world's best.
Michael Jamieson, who leads the world rankings in the men's 200 breast with his 2:07.79 from British nationals, will be a sure-fire medal contender in Glasgow next month. In his final preparation for the big meet, Jamieson won the 200 breast with a 2:11.89. Adam Peaty, mostly known for his sprint breaststroke prowess, challenged Jamieson throughout the race and finished a close second with a 2:12.00. Ross Murdoch, also primarily a sprint breaststroker, placed third with a 2:12.17.
Robbie Renwick, the reigning Commonwealth champion in the 200 free, found himself in second place in the event today to James Guy and his 1:48.59. Renwick was second with a 1:49.42. Stephen Milne finished third with a 1:49.52 after turning at 150 meters five tenths ahead of Renwick.
Roberto Pavoni, who will lead England at the Commonwealth Games in the individual medleys, took the men's open 400 IM with a 4:21.80. Max Litchfield stayed with Pavoni through 250 meters but fell off the pace and finished second with a 4:24.72. Christopher Suggitt was third with a 4:25.09, just beating out Lewis Smith's 4:25.56.
Jemma Lowe, a Commonwealth Games medal prospect in the 200 fly, won that event today with a 2:10.89. Georgia Barton's 2:12.49 was good enough for second, while Charlotte Atkinson placed third with a 2:13.37.
Another medal hopeful, Chris Walker-Hebborn, won the 100 back with a solid 54.36. Charlie Boldison put together a solid final 50 meters to move ahead of Marco Loughran and place second with a 55.62 to Loughran's 55.87. Notably, Olympic finalist and Commonwealth Games team member Liam Tancock was a surprising eighth with a 57.68.
Tancock rebounded in the men's 400 medley relay, leading off with a 55.93 for the England White team that won with a 3:39.05 that also featured a 59.44 breaststroke leg from Adam Peaty. The England Red team was a close second with a 3:39.55 while Scotland was third with a 3:45.09.
Amy Smith was nearly taken down in the women's 50 free by breaststroke sensation Ruta Meilutyte, but managed the win with a 25.30 to Meilutyte's 25.59. Sian Harkin placed third with a 25.69.
Meilutyte, a Lithuanian native now living in the United Kingdom, usually puts together a strong in-season 100 breast, but could not match her season best (and world leading) 1:05.63 with a winning time of 1:07.58 today. Meilutyte put together a different race than usual, turning fourth at 50 meters instead of leading from start to finish. Sophie Taylor led at the 50 and hung on to place second with a 1:08.97. Katie Armitage was third with a 1:10.22.
Ben Proud dominated the men's 50 fly final with a 23.63, not too far off his season best time of 23.42 that puts him in a tie for 10th in the world rankings. Denmark's Daniel Andersen got second with a 24.32 ahead of the 24.44 by Antony James.
The England White team won the women's 400 medley relay with a 4:04.58 ahead of the 4:06.18 by the England Red team. Scotland was a distant third with a 4:10.84.
Age group results
Joe Litchfield continues to impress in Manchester, with the 16-year-old posting a 4:32.51 in the 400 IM for the 18-and-under division. Luke Thomas was second with a 4:35.57, while Ashley Hogg placed third with a 4:39.72.
Laura Stephens dominated in the 16-and-under women's 200 fly with a 2:16.38. Evan King rebounded from a two-second deficit at the 100 behind Rosie Rudin to place third with a 2:18.39 to Rudin's 2:18.80.
Luke Greenbank had a strong swim in the 18-and-under men's 100 back, winning with a 56.87 ahead of Joseph Hulme's 58.18 and Adam Taylor's 58.24.
A 26.47 from Hazel Ferguson was good enough to win the 16-and-under women's 50 freestyle, with Freya Rayner placing second with a 26.92 and Darcy Deakin right behind for third with a 26.99. Shaun Muscroft won the 18-and-under men's 50 butterfly with a 25.35, beating out George Emmins' 25.58 and Greenbank's 25.66.
Niamh Robinson put together a solid swim to win the 16-and-under women's 100 breaststroke with a 1:12.12. Sarah Tripp and Megan Morrison were in a battle for second, with Tripp getting to the wall first with a 1:13.23 to Morrison's 1:13.39.
Leading from start to finish, Edward Baxter won the 18-and-under men's 200 breaststroke with a 2:22.87. David Murphy charged home in the final 50 meters to touch out Jack Burton at the finish, 2:24.34 to 2:24.82.
Martyn Walton closed out the age-group competition today with a 1:51.87 to win the 18-and-under men's 200 freestyle. Hulme was comfortably in second with a 1:53.39, while Suleman Butt placed third with a 1:55.21.