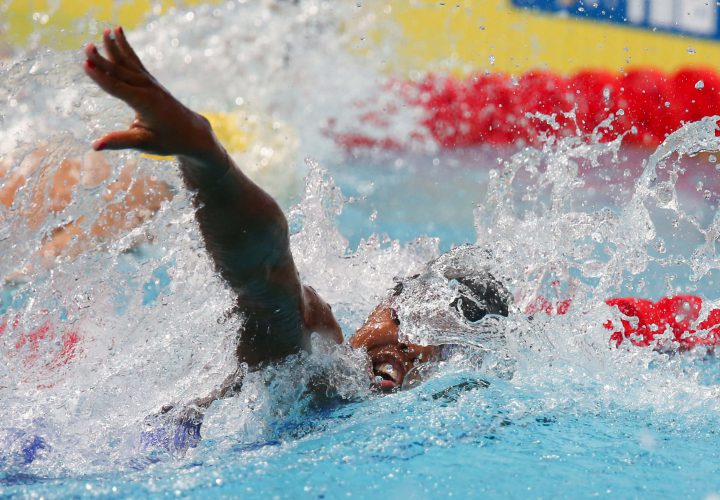 Welcome to Swimming World's Set of the Week sponsored by Commit Swimming.com! This week's set is a short sprint set using cords as resistance. This is a great set to add in at the end of a workout or to add into a longer sprint set or stations day.
Swimmers will need to pair up with partners with one person on the deck holding the cord for resistance for the swimmer in the water. Make sure the partner on land has a good amount of resistance on the cord (so much they are almost swimming in place) so that the swimmer in the water can really feel when they are slipping in the water or missing the timing of their stroke.
The goal of the resistance is to give swimmers a better feel on their stroke when the cord is released and they accelerate out of their resisted cycle swims.
Take a look at the set below:
X # of Rounds:
3 x 1-2-3 sprint cycles by repeat against cords @ :30
1 x 4 sprint cycles against cord, release into full 25 sprint
25 easy, switch partners

LEARN MORE ABOUT WORKOUTS FROM COMMITSWIMMING.COM
Commit Swimming's Mission
Commit Swimming builds innovative software for our sport, bringing 21st-century tech to swimming.
Every dang day Commit strives to improve technology in swimming, pushing the boundaries of what has been done before. For far too long swimming software has lacked creativity and simplicity. It is our goal to change that by delivering products that dazzle you with their simplicity and elegance.

All swimming and dryland training and instruction should be performed under the supervision of a qualified coach or instructor, and in circumstances that ensure the safety of participants.