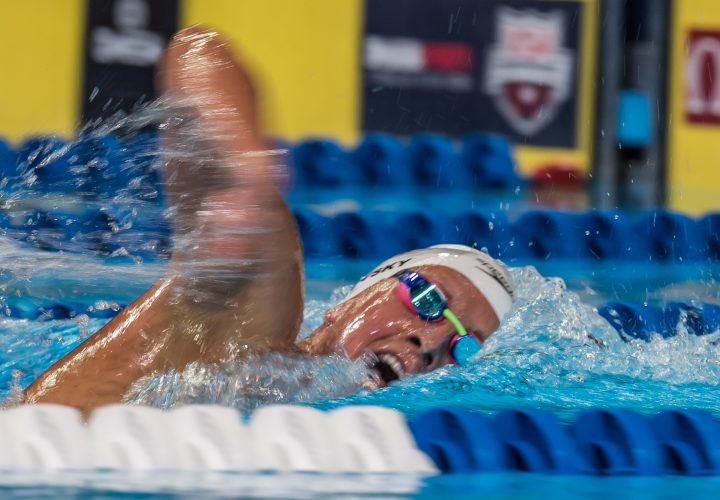 Photo Courtesy: Peter H. Bick
Welcome to Swimming World's Set of the Week sponsored by CommitSwimming.com! This week's set is a long course aerobic distance free set that works on controlling pace at a high intensity. Take a look at the set below and the description that follows:
3 Rounds:
3 x 300's on 4:30 as:
#1 – 100 fast/200 moderate
#2 – 200 fast/100 moderate
#3 – 300 fast for time, descend by rounds
1 x 100 easy


This set is pretty straightforward: three rounds of 3 x 300's with a 100 easy in between. The first 300 is 100 fast/200 easy, second 300 is 200 fast/100 easy, and the last 300 is all fast for time. Take a 100 of easy between each round to regroup with an extra minute or two of rest before getting back into the set. Time at least the all fast 300's of each round and encourage your swimmers to try and improve their pace as they progress through the rounds.
The trick of this set is holding a consistent pace through each round. Swimmers should be holding the same pace on all of the "fast" swims, which means they need to have some control of their pace as they begin the set. You don't want them starting out at 1:10 on the first fast 100 only to jump up to 1:15 pace by the time they are doing the full 300 fast.
While this feel like they are starting off slow, help them approach the set in a way that they will be able to hold onto their pace within each round. As you move through the rounds, challenge your swimmers to hold a faster pace so they end up descending their pace through the rounds. This is a great set for swimmers to get a handle on their long course pacing while also teaching them to learn how to manage their pace. Happy swimming!
LEARN MORE ABOUT WORKOUTS FROM COMMITSWIMMING.COM
Download Commit's App To Use On Your Pool Deck.
Take control of your pool deck with Commit's apps for iOS and Android. No need to burry your head in your phone all practice, but Commit is there for those few minutes you need it. Take attendance , quickly and easily modify the workout, take some notes about the practice so you don't forget. Everything you need for your workout is on 1 screen. Commit is designed with your time in mind, so you can get back to what you do best… coaching. Now when practice ends, you can get home to your family or meet up with friends right away without wasting extra time in the office.
All swimming and dryland training and instruction should be performed under the supervision of a qualified coach or instructor, and in circumstances that ensure the safety of participants.