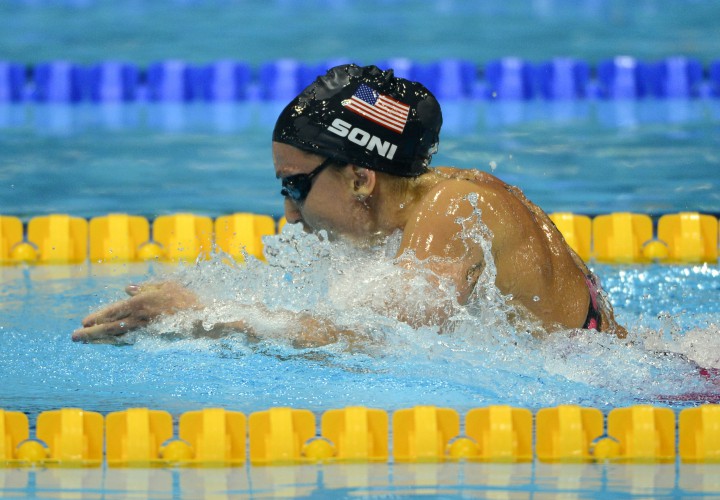 Photo Courtesy: Andrew P. Scott-USA TODAY Sports


Welcome to Swimming World's Set of the Week sponsored by Commit Swimming.com! This week's set is an aerobic breaststroke set meant to work on lengthening out the stroke and controlling pacing.
The main idea of the set is for the breaststroke/free swims to be at a moderate to high aerobic level, while the kick/drill work is meant to be more active recovery and a chance to reset their form between aerobic work. For any of the kick it may be helpful to have your swimmers put on a snorkel and ditch the kickboard, instead just holding their arms in front in a prone position to think about holding a strong body line on the surface of the water. Remind your swimmers this is the exact position they want to "fall into" at the end of every stroke and to work on maintaining that length even when they are tired.  
Watch to make sure your swimmers' technique stays consistent through the set and remind them that an efficient breaststroke will lead to a faster (and less painful!) swim! Take a look at the set below:
8 x 25 as 2x (kick/separation/2k1p/dps) on :30
3 x 100 as 50 breast/50 free on 1:20
6 x 50 as drill/sw on 1:00
2 x 200 as 75 breast/25 free on 2:50
3 x 100 as 50k/25 dr/25 choice on 1:45
1 x 400 breaststroke negative split

LEARN MORE ABOUT WORKOUTS FROM COMMITSWIMMING.COM
Commit Swimming's Mission
Commit Swimming builds innovative software for our sport, bringing 21st-century tech to swimming.
Every dang day Commit strives to improve technology in swimming, pushing the boundaries of what has been done before. For far too long swimming software has lacked creativity and simplicity. It is our goal to change that by delivering products that dazzle you with their simplicity and elegance.

All swimming and dryland training and instruction should be performed under the supervision of a qualified coach or instructor, and in circumstances that ensure the safety of participants.