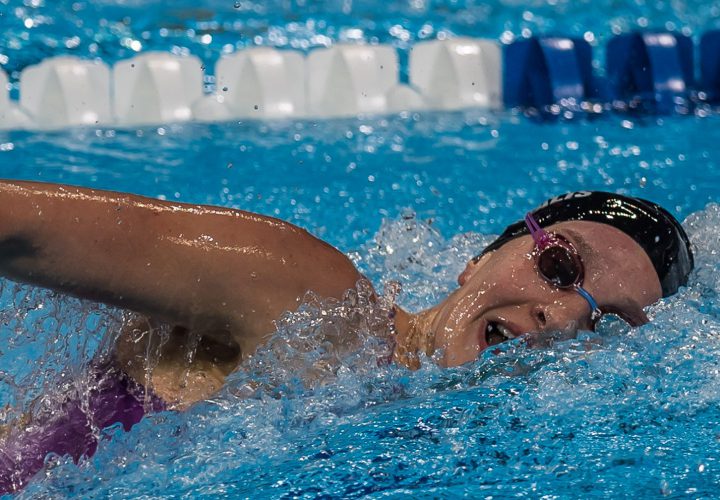 Welcome to Swimming World's Set of the Week sponsored by Commit Swimming.com! This week's set is a longer IM set that is a lot of descend work while working on the transitions between all four strokes.
Each round has 3 sets of 3 x 100 that start as an even split between two strokes (fly/back for the first round, for example) and gradually moves to a full 100 of whatever the second stroke is (so in the first round the last 3 x 100's would all be backstroke). The idea of the set is to not only be fast during the transitions from stroke to stroke, but to practice how to be fast after the transitions too.
In between the sets of 3 x 100's are 6 x 50's alternating between kick and drill for a little bit of active recovery to reset between rounds of descends. The interval ascends on the 100's to help make the descends a really high quality. Take a look at the set below:
3 Rounds:
*Round 1=fly/back, Round 2=back/breast, Round 3=breast/free
3 x 100 desc 1-3 as 50 stroke/50 stroke on 1:20
6 x 50 stroke/stroke as odd = kick, even = drill on 1:00
3 x 100 desc 1-3 as 25 stroke/75 stroke on 1:30
6 x 50 stroke/stroke as odd = kick, even = drill on 1:00
3 x 100 desc 1-3 all stroke on 1:40

LEARN MORE ABOUT WORKOUTS FROM COMMITSWIMMING.COM
Commit Swimming's Mission
Commit Swimming builds innovative software for our sport, bringing 21st-century tech to swimming.
Every dang day Commit strives to improve technology in swimming, pushing the boundaries of what has been done before. For far too long swimming software has lacked creativity and simplicity. It is our goal to change that by delivering products that dazzle you with their simplicity and elegance.

All swimming and dryland training and instruction should be performed under the supervision of a qualified coach or instructor, and in circumstances that ensure the safety of participants.