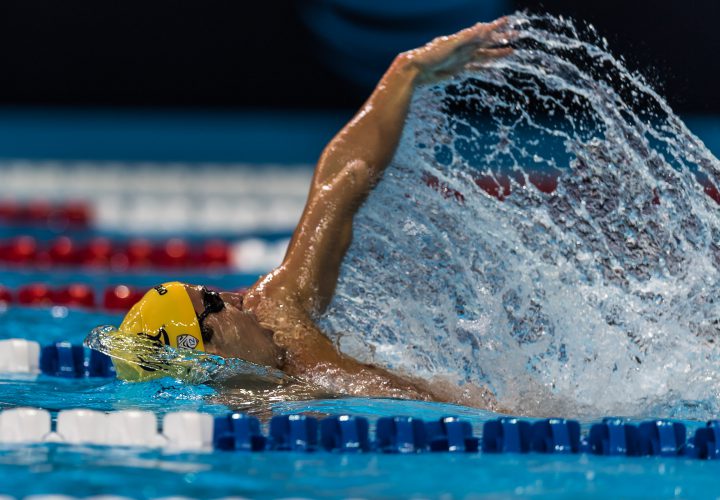 Photo Courtesy: Peter H. Bick

Welcome to Swimming World's Set of the Week sponsored by Commit Swimming.com! This week's set is an aerobic backstroke set. The set moves through two rounds with an emphasis on sustained kicking, holding underwaters, and a bit of speed play throughout.
On the second round of the set give your swimmers and extra minute rest between the 2 x 200 and the 2 x 150 for your swimmers to put on fins and really let them get going fast at the end of the second round. Ask your swimmers to set a number for their underwater kicks to hold throughout the set and hold them accountable to that over the course of the workout. Take a look at the set below:
2 Rounds:
300 kick/sw backstroke on 4:45
2 x 200 backstroke (#1 – 50 smooth/50 strong, #2 – 25 smooth/75 strong) on 3:00
*(round 2 take ~1:00 to put on fins)
2 x 150 as 50 kick/50 sw/50 kick (hold underwater kicks on 50's kick) on 2:20 (2:00 w/ fins)
4 x 50 descend 1-3, 4 is smooth on :50

LEARN MORE ABOUT WORKOUTS FROM COMMITSWIMMING.COM
Commit Swimming's Mission
Commit Swimming builds innovative software for our sport, bringing 21st-century tech to swimming.
Every dang day Commit strives to improve technology in swimming, pushing the boundaries of what has been done before. For far too long swimming software has lacked creativity and simplicity. It is our goal to change that by delivering products that dazzle you with their simplicity and elegance.

All swimming and dryland training and instruction should be performed under the supervision of a qualified coach or instructor, and in circumstances that ensure the safety of participants.