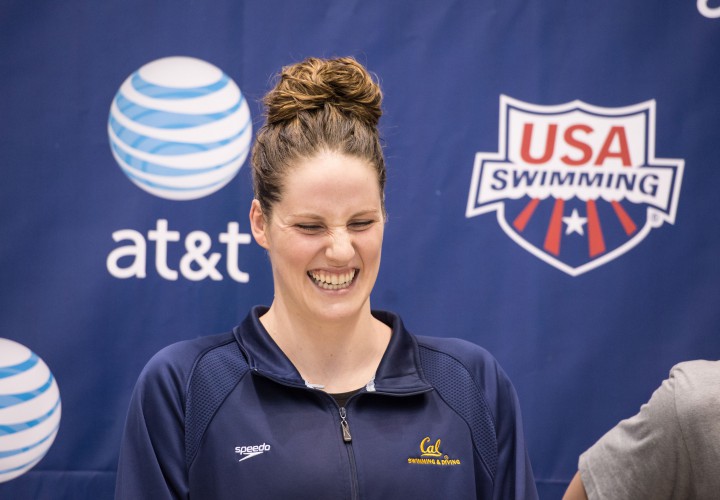 Analysis by Jeff Commings
FEDERAL WAY, Washington, February 25. THE question pretty much every college swimming fan wants answered – What will Missy Franklin swim in her first collegiate championships? – might not be officially given until Friday, as Franklin is entered in five events at this week's Pac 12 women's swimming championships.
According to the psych sheets released today, Franklin is entered in the 500 freestyle on Thursday, which is not surprising given her other options that day. She hasn't raced the 200 IM much this season, and she doesn't have the fast twitch muscles required to be a factor in the 50 free. As for the remaining two days, Franklin and California head coach Teri McKeever have too many options, which is a great problem to have – and possibly also what keeps McKeever up at night.
On Friday, Franklin is entered in the 200 free and 100 back. I wouldn't put it past Franklin to contest both events at Pac 12s and the NCAAs, given her capacity to pull off amazing doubles when it matters (see: Olympics, world championships and nationals). But given the added issue of an 800 free relay at the end of the second day at the NCAAs, is it stretching Franklin too far to put her in all those races in one day?
And then there's the final day, where she is entered in the 200 back and 100 free. Again, both events are good options for Franklin, but they come back-to-back with less than 10 minutes between each. Even Franklin would say that's not enough time to transition from one final to the next, especially with an awards ceremony between each robbing her of precious warm down time.
And, there's the NCAA rule limiting her individual event total. If she is to swim at least three relays (400 medley, 800 free and 400 free), she can only swim four individual events. If she swims four relays (the aforementioned plus the 200 free relay), she is limited to three individual events. I doubt she's only in two relays for the Golden Bears, but if that were true, then she could be in all five of the events mentioned above.
I don't think Franklin needs to do the 200 free-100 back double. Cal has plenty of backstroke options this year, and while it's weird to think Franklin will not do backstroke in a championship meet, I would expect her to race in the 100 free and give Cal some big points that are not assured to go the Golden Bears' way in that event.
If Franklin only races freestyle this week in Federal Way, that doesn't mean McKeever will stick to that plan for the NCAA championships. Franklin already has automatic qualifying times in all five of the events she is entered in this week, so if she were to skip the 100 back this week, she could still race it in Minneapolis next month. This could be the Great Fake-Out of 2014 … and I wouldn't blame McKeever and Franklin one bit for playing this game.
Franklin's schedule is one of the many topics I discuss with Swimming World contributor David Rieder on tomorrow's episode of "The Morning Swim Show." I'm sure many of you have differing opinions, and I'd love to hear them!
Click here to view psych sheets for women's Pac 12 championships