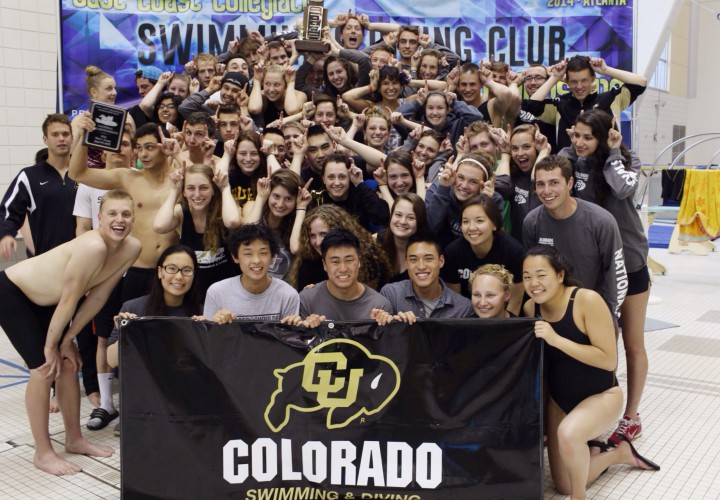 By Kevin Gell
ATLANTA, Georgia, April 6. DAY 3 of the 2014 ECC National Championships featured some of the fastest swims yet as teams sprinted for the wall and a chance for a coveted team title. When the smoke cleared it was the Buffaloes who walked away with their 4th consecutive combined team total. The Colorado Women also claimed first with 1024 points while the men settled for second with 763 points.
Despite a great effort throughout the meet, the Florida Gators fell short of the combined team title and had to settle for second with a total of 1360.5 points. The Florida men scored 887 points to claim the men's title while their women came up in second with 473.5 points. The depth and level of competition displayed by both teams made the 2014 ECC Championship the most memorable and exciting yet.
Individual winners on Day 3 included Erin Mahoney of East Carolina University, who swam 27.39 to win the Women's 100 Backstroke, Virginia Tech's Kayla Iverson, who won the 100 Butterfly in a meet record time of 57.08, and Bobby Bittner who swam 49.32 in the Men's 100 Butterfly to win the event. Bittner, who represents South Carolina, set the meet record in this event during prelims this morning, getting the wall in 48.58 seconds. Colorado's two first place of the day came from Casey Wilson, who swam 31.14 in the 50 Breaststroke and 1:00.36 in the 100 Individual Medley.
Florida's Jeff Reardon was also a double winner on Day 3. The Florida Gator distanced himself from the field, winning the Men's 50 Backstroke and 100 Individual Medley by almost a full second in each event. In the Men's 50 Breaststroke, Andrew Brower swam 25.99 to out touch his Ohio State teammate by just .03 seconds. In the 100 Freestyle, Melissa Andruzzi of Illinois continued her win streak as she swam to a meet record of 52.52. On the men's side, it was University of Virginia's Jonathan Littles who claimed victory with a time of 46.25 seconds. 3 Meter Diving was also contested today. Hannah Herbold of Metropolitan State University claimed her second diving gold of the meet with 372.80 points. Colorado's Jake Voltarel scored 485.40 points to claim the men's 3 Meter title.
The meet concluded with the Men's and Women's 4×50 Freestyle relay. On the Women's side, the Buffaloes combined to swim to a 1:41.49, which was good for the final first place of the meet. Pennsylvania State University claimed the men's title in the event as they out touched Florida with a time of 1:25.55 seconds.
After 3 days of outstanding competition, sportsmanship, and camaraderie, 4 other special awards were distributed. Pennsylvania State was the recipient of the Team Spirit Award for the second year in a row. Kayla Iverson of Virginia Tech received the Performance of the Meet Award for her win in the 100 Butterfly where she shaved a second and a half off the meet record en route to another individual gold.
The Most Valuable Swimmer of the Women's competition went to Melissa Andruzzi who won all 5 of her individual events to help Illinois claim a 4th place finish in the women's meet and 8th place finish in the combined standings. On the Men's side, Florida's Jeff Reardon and South Carolina's Bobby Bittner tied as Most Valuable Swimmer. Both Scored 116 points for their respective teams during the three days of competition.
At the conclusion of the meet, the top 10 scores are as follows:
Women:
1. University of Colorado 1024 points
2. University of Florida 473.50 points
3. Virginia Tech 416 points
4. University of Illinois 411 points
5. Northeastern University 351 points
6. University of Connecticut 335 points
7. University of Georgia 327 points
8. University of Missouri 324.50 points
9. North Carolina – Chapel Hill 298 points
10. West Virginia University 241 points
Men:
1. University of Florida 887 points
2. University of Colorado 763 points
3. Pennsylvania State University 473.50 points
4. Northeastern University 411 points
5. Ohio State University 372 points
6. Virginia Tech 369 points
7. University of Georgia 331.50 points
8. University of Connecticut 288 points
9. Georgia Inst of Technology 277.50 points
10. University of Virginia 267 points
Combined:
1. University of Colorado 1787 points
2. University of Florida 1360.50 points
3. Virginia Tech 785 points
4. Northeastern University 762 points
5. University of Georgia 658.50 points
6. University of Connecticut 623 points
7. Pennsylvania State University 494.50 points
8. University of Illinois 492 points
9. North Carolina – Chapel Hill 478 points
10. University of Missouri 468.50 points
For additional information, Psych Sheets, and Full Results, visit,http://www.gtswimclub.com/ecc.php
The above article is a press release submitted to Swimming World. To reach our audience, contact us at newsmaster@swimmingworldmagazine.com.