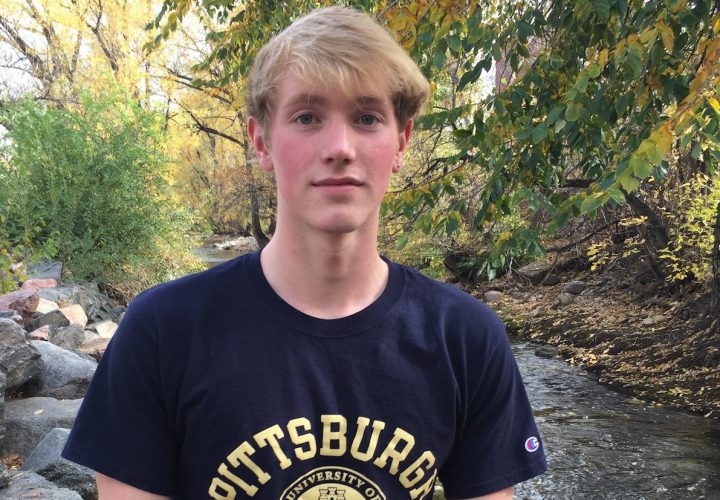 Photo Courtesy: Quinton Pierce
Agon is the proud sponsor of all high school coverage (recruiting, results, state championships, etc.) on SwimmingWorld.com. For more information about Agon, visit their website AgonSwim.com.
To report a college commitment, email HS@swimmingworld.com. Join Swimming World's Watch List
NEW COMMIT: Quinton Pierce has announced his verbal commitment to swim at the University of Pittsburgh. Pierce, who swims for the Jeffco Hurricanes, is from Lafayette, Colorado. A NISCA All-American, he also swims for Boulder High School.
At last spring's Colorado 5A State Championships Pierce won the 500 freestyle and finished second in the 200 free. He's his high school's record holder in the 500 free. His best times are:
500 Free 4:29.60
1000 Free 9:24.31
1650 Free 15:39.43
200 Breast 2:06.40
100 Breast 58.76
In March Pierce recorded lifetime bests in the 500, 1000, and 1650 as well as the 200 breast. His 400 IM and 100 breast bests were posted in December.
Pierce told Swimming World,
"I am extremely excited to verbally commit to the University of Pittsburgh! It has a great team and coaching staff that made it feel like home. and it provides an excellent environment for me to continue improving as a student and a swimmer. I look forward to exploring the beautiful campus and local town area. HAIL TO PITT!!"
Pierce is closing in on ACC scoring range. Pitt's 500 freestyle group will still include a few of last year's finalists by Pierce's arrival. He'll be able to train alongside eighth place finisher Aaron Sett and C finalist Brian Lovasik for one year. Luke Smutny, another C finalist, will be in Pittsburgh for Pierce's first two years of college swimming. At last year's Championships Pierce would have finished 25th in the mile, just one place and two seconds outside of scoring. If he continues to follow last year's impressive progression Pierce could find himself in scoring range in his freshman year.