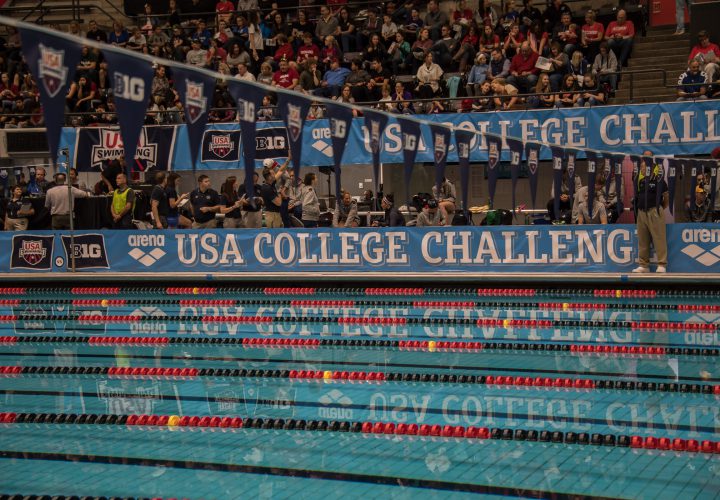 Photo Courtesy: Peter H. Bick
By Ashley Illenye, Swimming World College Intern.
The beginning of July marks a very important time for rising high school seniors and college recruiters. It represents the beginning of the recruiting process and weeding out what schools that you do and do not want to go to. One of the most important aspects for swimmers in deciding schools is picking what division you want to swim in, or if you want to swim at all. DI, DII, DIII, NAIA, and not swimming have positives and negatives. The following is made in as a guide to help you choose the right division school for what you are looking for out of your college experience.
Division I
Pros: This is the big time. Student athletes in Division I swimming have many opportunities to get scholarship money and typically go to schools that prioritize athletics more than a Division II or II school. Being a part of a DI school, major or mid-major, is a very fulfilling experience. You're surrounded by people that are just as dedicated to being as great an athlete as they can as you are. You'll have academic support as well to make sure you meet the GPA requirement. Each division provides opportunities for time management between academics and swimming.
Cons: Most swimming schools have some sort of morning practice and two-a-days. Starting times can range anywhere from 5 to 6:30 a.m. If that sounds considerably unappealing turn back from doing any swimming in college at all. You also have a maximum of 20 hours of mandatory practices, which a lot of colleges meet. Some offer extra voluntary hours. There are some DII/DIII schools that are more competitive than DI schools, so if you're looking for competition it might be a better idea to look into another division. If you think that you'll get overwhelmed easily, it may be easier to look into another division or not swimming at all.
Division II or III
Pros: Division II still gets money for scholarships. In Division III, you can see if the school gives academic support. Division II or III schools allow for more time to focus on academics, and DII schools are predominantly liberal arts based. Also, if you're competitive enough in the sport to be a DI swimmers and go DII or DIII, they have the potential to make NCAAs and represent their school on a national level. The top several DII and III schools can compete with reputable DI schools. It's about finding the right fit to your skill and comfort level.
Cons: DIII schools don't have any athletic scholarships, and if it's a private school it can be expensive. DII schools similarly don't have as much funding as DI schools, and as DIII schools, can get pricey in places. It might be more financially feasible for some to go to a state school and not swim. Like a Division I school, both Division II and III require a major time commitment and a minimum GPA. Some DII and DIII schools will be more competitive than others, it depends on what you're looking for.
NAIA
Pros: The NAIA division allows swimmers to compete outside the NCAA with fewer rules and restrictions than a Division I, II, or III school does. NAIA allows coaches to practice with their swimmers year round, which may be a negative to some but it allows coaches to practice with their swimmers before and after the season. Their season is also geared toward their national meet, while most NCAA schools have significant pressure on their conference championships. The NAIA has many different types of schools, including art and liberal art schools to have a chance to be in their own division and allows athletes to compete at a level where they can balance their class load.
Cons: The NAIA, while it has many pros, isn't as competitive as schools in the NCAA. While there are a few teams that may be competitive, the overall division has areas with stronger swimmers and other areas where there are not. There is a benefit to not focusing on the conference meet, but for swimmers who don't qualify for the national meet, their season is defined on a meet that their school isn't as invested in as the national meet.
Not Swimming in College
Pros: If you ended your swimming career on a positive note, you might be satisfied not swimming. If you have sustained an injury and don't think that you can make it four years, it might be best to conserve your energy and find a new passion. If you have another activity you're highly interested in, like a fraternity, or have a highly intensive major swimming might be too much to handle. If you were never truly passionate about swimming, it might not make you happy to continue the next four years. Swim because you want to, not because anyone else does.
Cons: Swimmers do not only compete for the sport itself, but for the companionship and comradery that comes along with it. Missing the opportunity to compete at a higher level may be something you later regret. Many swimmers have loved the sport their entire lives and don't want to give up the rush of going a personal best or watch your best friends hit their goal time. Swimming on a college team at any level provides competition, leadership skills, discipline, and a family you will never forget.
All commentaries are the opinion of the author and do not necessarily reflect the views of Swimming World Magazine nor its staff.