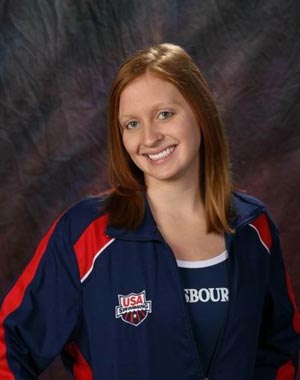 PHOENIX, Arizona, September 2. KAMERON Ansley, a four-star recruit from the Class of 2010, is next up in the Swimming World College Recruit Rankings Profiles series. Ansley, who hails from Virginia, swims for the QDD Swim Team, and preps at Osborn High.
Ansley maintains her profile in the Swimming World College Recruit Rankings powered by Take Your Marks, and is a butterfly specialist.
Ansley's best long course meter time is in the 200 fly with a senior national cut time of 2:15.58. She also has junior national cuts in the 100 fly (1:02.36), 200 IM (2:22.80) and 400 IM (5:00.43) in long course events. Her best short course yard times are in the 100 fly (56.60) and 200 fly (2:04.12).
Where and when did you start swimming?
I started swimming when I was 5 years old in Savannah, Ga.
Who would you name as the most influential person and coach in your swimming career?
The most influential person in my swimming career thus far has been my mom. She is a major support system of mine, and pushes me to be the best I can be. She has been there during the highest of highs and the lowest of lows, and I wouldn't be anywhere near to where I am today without her.
Every coach I have had, from summer league to National Junior team coaches has contributed to my swimming in some way or another. My current coach, Rick Benner, has been a major influence. He has helped me realize that anything can be accomplished if you set your mind to it. He has presented me with opportunities which highly contribute to my success in and out of the pool.
What, to this point, is your best moment in the sport and why?
Throughout my 12 years of swimming, my best moment came in May 2009. I attended the Mel Zajac Jr. International Swim meet in Vancouver, B.C. with the United States National Junior Team. This was by far the most rewarding experience I've ever had. Being a part of the team allowed me to meet swimmers from around the country who go through the same things I do on a daily basis. I made friends I know I will stay in contact with for years. It was so interesting to see how swimmers from outside the U.S. acted on deck, and to swim for different coaches.
Walk us through a day of practice:
During the summer our team has doubles Monday through Saturday. We swim 3 hours in the morning and do half an hour of core strengthening and two and a half hours of swimming at night. Our school year consists of morning practice Monday, Tuesday, Thursday, and Friday mornings, 4:45-6:15 AM, and Saturday and Sunday from 6-9 AM. We train Monday-Saturday afternoons from 3-6 PM, with half and hour of dryland training before swimming.
What is your favorite set?
I like to mix it up so anything IM. I also like to kick and work in power towers and other strength training equipment.
What is your least favorite set?
I dislike anything that requires swimming non-stop for a long time. (E.g. 4000 IM 30 seconds rest, 3000 IM 30 seconds rest, 2000 IM 30 seconds rest, 1000 IM 30 seconds rest. Or 5000 freestyle for time.)
What are your short-term goals?
I'm really focused on college swimming right now. Choosing the right school is very high on my list of things to do.
What are your long-term goals?
I'd like to see myself place well at NCAAs and succeed in the pool as well as in the classroom.
What colleges are you interested in so far?
In no particular order: Tennessee, Virginia, Virginia Tech, Ohio State, West Virginia, and Louisville.
What has the recruiting process been like so far, now that you are allowed to be called by coaches?
Exciting! It's been interesting to see what schools around the country have to offer and it's been cool to meet so many coaches. It gets overwhelming at times, but I'm excited about taking trips in the fall and making my decision in November.
Is there anything else interesting that you'd like our readers to know about you?
In November 2008, I moved from Savannah, Ga. to Northern Virginia to take advantage of opportunities that furthered my training. I like Virginia, but miss the beach and southern food!
RECRUITS: To make sure we have the most updated information on your recruiting, and to earn the highest star ranking you deserve, please either create a new profile, or request to take over your admin-created account in the Swimming World College Recruit Rankings powered by Take Your Marks. Then make sure to update your profile with your top times. Click here for information on how to do so.