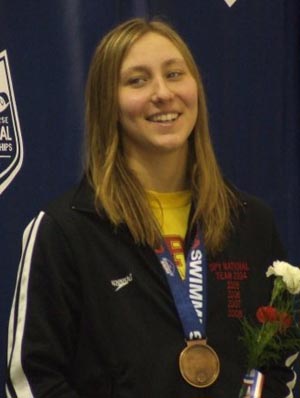 PHOENIX, Arizona, July 4. MARGO Geer, a five-star recruit from the Class of 2010, continues this year's series of Swimming World College Recruit Rankings Profiles. Geer swims for Fairbanks High and the Springfield Family YMCA.
Geer maintains her profile in the Swimming World College Recruit Rankings powered by Take Your Marks, and owns three U.S. Olympic Trials cuts. She has the following times on her resume: 50m free 26.03; 100m free 55.92; 100m back 1:03.44.
Geer also would have qualified for the 2009 NCAA Division I Championships in the 50-yard free (22.40) and 100-yard free (48.99).
When and where did you start swimming?
I started swimming when I was five years old for the Buckeye Swim Club in Columbus, Ohio.
Who would you name as the most influential person and coach in your swimming career?
My whole family has been very influential through my swimming career. I learned a lot about dedication and hard work from my parents. They have given a lot to help me become successful in the sport. My older brother, Marcus, got me interested in swimming. He continues to impact my success in and out of the water and has always been very supportive.
As far as coaches, it would be impossible to name just one as a major influence. My first coach after joining Springfield YMCA was John Bishop. At the age of 8, he taught me the importance of technique and being competitive. He always believed I could hang with the "big dogs." Another coach who has contributed to my success is Mickey McNeil. She has really helped me with the mental aspect of my racing. She taught me the significance of having a "game plan" and setting challenging goals. Her enthusiasm for the sport has rubbed off on me.
Lastly, my current head coach, Bruce Patmos, has really shaped the type of swimmer I am right now. During the summer of my freshman year Coach Bruce took over the head coach position on our team and really turned our program around. When I was 14, I was barely swimming at the Junior National level and after just one year I qualified for not only Senior Nationals but Olympic Trials and a spot on the National Junior Team.
Another person who has really inspired me in my swimming career is Jenny Forster, a current swimmer at the University of Arizona. I remember watching her at our Ohio age group state meets as she blew away the competition. It didn't matter what stroke or distance. Her technique looked flawless. Throughout the years, she won with class and showed great sportsmanship to her competitors. I've always looked up to her and tried to take after her example.
What, to this point, is your best moment in the sport and why?
I've had so many unforgettable moments throughout the years. If I had to narrow it down I'd say:
* getting my first Olympic Trial cut in the 100 backstroke
* swimming at Trials and winning my heat from lane 8, going a 55.92 in the 100 free dropping a full second
* competing in Melbourne, Australia with the National Junior team and winning a gold medal on the 4×100 free relay with Kate Ziegler
Walk us through a day of practice:
1. An hour of circuit training
2. Fifteen minutes of stretching before getting in the water
3. Swimming
Typical Practice:
-warm up: 300 Free + IM drill/swim set adding up to 900
-a set usually geared towards skulling, breathing patterns, or drills
-a set focusing on under water kicking, with fins or without
-a pull set, usually long distances working on distance per stroke, cutting down on breathing
-the main set, focusing on speed. sometimes descending or holding fast times repeatedly
-a kick set, usually negative splitting to work on legs for the back half of racing
-warm down
What is your favorite set?
My favorite set is 6 100's off the blocks in heats trying to average three seconds off your best time.
What is your least favorite set?
My least favorite set would be a 20-minute swim for time trying to go as far as you can or any breaststroke sets.
What are your short-term goals?
My short term goals are:
* making it back top 24 at World Trials in more than one event
* placing at US Open
What are your long-term goals?
In the future I want to:
* find a college that meets my academic interests and helps me develop as a swimmer and person.
* prepare for the 2012 Olympic Games in London
* influence other swimmers
What colleges are you interested in so far?
Undecided.
What has the recruiting process been like so far, now that you are allowed to be called by coaches?
It's very exciting. Of course it can be stressful, but just the opportunity to speak to the best colleges in the nation is awesome.
RECRUITS: To make sure we have the most updated information on your recruiting, and to earn the highest star ranking you deserve, please either create a new profile, or request to take over your admin-created account in the Swimming World College Recruit Rankings powered by Take Your Marks. Then make sure to update your profile with your top times. Click here for information on how to do so.