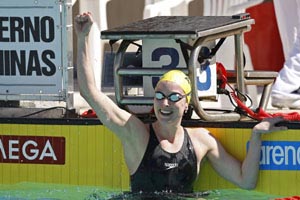 LAUSANNE, Switzerland, November 3. AUSTRALIANS Christian Sprenger and Marieke Guehrer remain in the lead for the FINA World Cup overall points champion in their respective divisions.
Sprenger holds onto a small four-point margin among the men over compatriot Robert Hurley, 60-56, as Hurley's world record and World Cup standard have gained him significant points. Matt Jaukovic of Australia, another world-record setter, sits third with 52 points.
Guehrer is running away with the women's title, although double points from the final stop in Berlin still make it anyone's game. Guehrer has tallied 100 points, while 2007 World Cup champion Therese Alshammar of Sweden is second with 45 points. South Africa's Kathryn Meaklim is in third with 42 points.