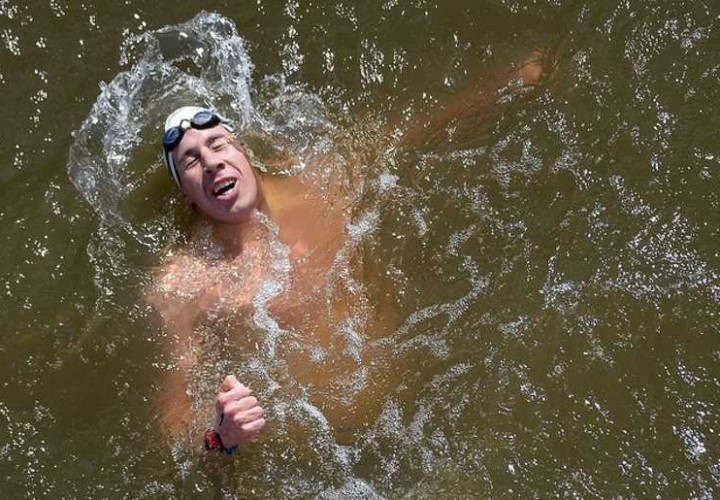 Photo Courtesy: R-Sport / MIA Rossiya Segodnya
Coverage of the 2015 FINA World Championships is sponsored by Wylas Timing. Visit our coverage page for more.
Coverage of the World Championships is sponsored by Wylas Timing. Visit our landing page for more.
Chad Ho became South Africa's first gold medalist in the men's 5K open water event with his victory today at the 2015 FINA World Championships.
Ho beat out Germany's Rob Muffels in a photo finish with matching times of 55:17.6.  Italy's Matteo Furlan snared bronze in 55:20.0 in what proved to be an exciting finish in Kazan.
This is Ho's second World Championship medal having earned bronze in the 5K at the 2009 World Championships.  Ho also is a fixture on the FINA Open Water World Cup series, having won the overall title in 2010.
Muffells silver is Germany's 12th medal in the history of the 5K, the most for any country in the event. Germany has managed to claim a medal in all 12 5K world championships since 2002.
Furlan delivered Italy its eighth medal ever in the men's 5K, equal to Russia for the second most by any country behind Germany's massive 12 medals.
This is Italy's first medal in the event since 2006, however, when Simone Ercoli took bronze.
Russia's Evgeny Drattsev wound up taking fourth in 55:20.4.  He had been vying to become the first person ever to win a medal set of gold, silver and bronze in the event. He was one of the most accomplished open water swimmers in the field, having won eight international medal in open water events, spanning back to a silver in this event at the 2007 World Championships.
For the U.S., David Heron managed to claim sixth overall in 55:20.7, while Alex Meyer picked up 11th in 55:25.3.
The race proved to be particularly exciting considering three separate packs formed with some swimmers choosing a bad line to the finish.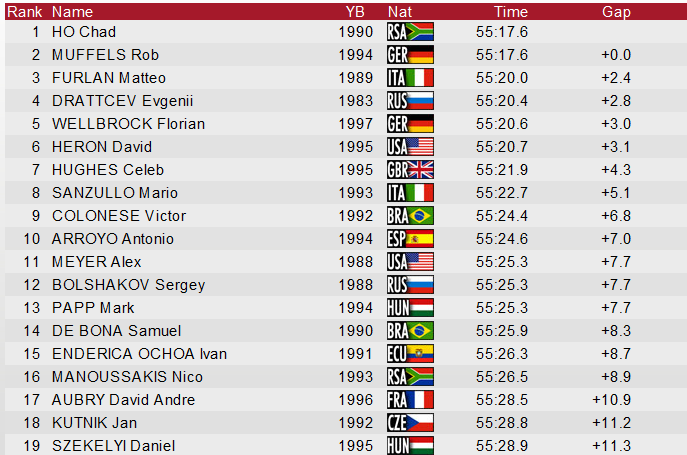 2015 FINA World Championships, Open Water Swimming: Men's 5K – Results
QUOTES
Chad Ho (RSA, gold): "I'm over the moon, I honestly couldn't believe the result. Today's race was brutal, the wind was something else, and I had to fight the wind just to get a nice line. It was a perfect start to my World Championships. I know that I had done the work and it paid off in the end. Going into the last 400 metres I told myself 'you can do this' and I repeated this a few times as I sprinted for the finish line. As I entered the final sprint I wanted to be close to the left lane rope so that I could breathe to the right. I saw Rob and Matteo and thought 'On no!" but I found my legs and my second wind. That's what open water swimming is all about, the very close finishes like today!"
Rob Muffels (GER, silver): "The race was pretty fought with a lot of fights in the water with my colleagues. I had an easy first lap and I was first to the final buoy which is where I wanted to be, but after that I found myself just a little bit off course. About 100m from the finish I saw Chad and Matteo in front of me and I knew that I had to stay close to both of them. I tried to push my limits thinking it was time to 'go hard or go home'. The sprint was perfect and I am very happy with the results. Chad had a better touch than me."
Matteo Furlan (ITA, bronze): "It's my first world championships and I am happy for a bronze medal. In the first lap I was stuck in a pack with lots of swimmers and it was a challenge for me to break away. At the last buoy I thought I was free and I hoped it would be easy to break away. I found a way to sprint to a third place finish."