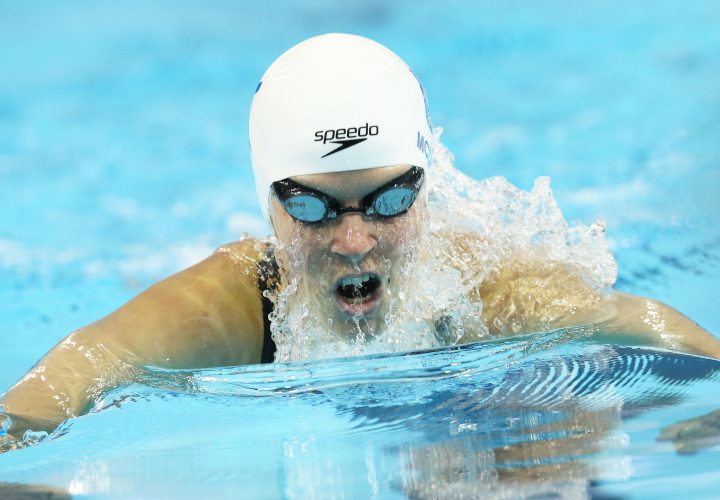 Photo Courtesy: Scott Grant/Swimming Canada
Canadian Olympian Martha McCabe is calling it a career. In an article that appeared on the The Athletic online, McCabe says that she is effectively retired after making a second consecutive appearance on the Canadian Olympic Swim Team and serving as a captain last summer in Rio.
McCabe's last international medal was at the 2015 Pan American Games in Toronto, where she finished second in her best event, the 200 breaststroke. McCabe also has a bronze medal in the 200 breast to her name from the 2011 World Championships in Barcelona, and would go on to finish fifth in the final of that event at the 2012 Olympics in London.
In the article, McCabe details her own process of transitioning out of competition, commenting on the "Game Plan" program that the Canadian Olympic Committee developed two years ago to help prepare athletes who were nearing retirement. Her experience opened her eyes to the mental and emotional struggles that face elite athletes as they transition out of competition, and helped shape the idea for her new venture that utilizes elite athletes in a unique way.
That program is called Head to Head, and the venture aims to connect Olympians with young athletes to offer advice and encouragement for the future generations of the sport. McCabe, who is the founder of the organization, says that she has already spoken with 18 Canadian Olympians who are interested in the program, with plans to take it across all sports and across Canada.
You can read more about McCabe's new program on The Athletic's website here.