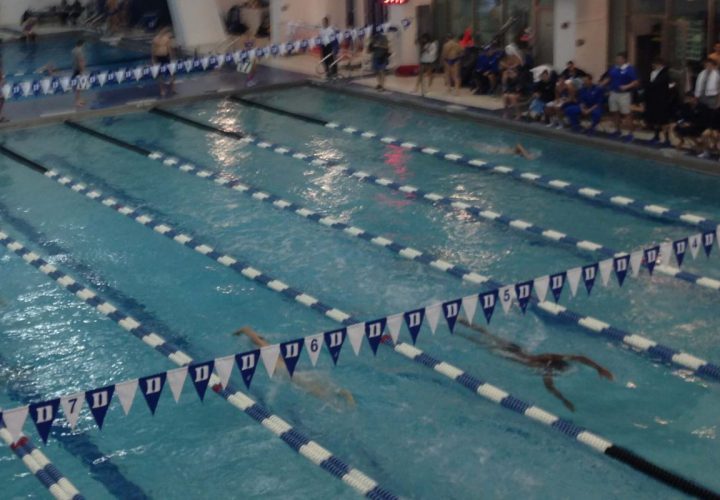 Photo Courtesy: David Rieder
Agon is the proud sponsor of all high school coverage (recruiting, results, state championships, etc.) on SwimmingWorld.com. For more information about Agon, visit their website AgonSwim.com.
To report a college commitment, email HS@swimmingworld.com. Join Swimming World's Watch List
NEW COMMITS: Irvine Novaquatics' Henry Wu and SwimMAC's Colson Zucker have verbally committed to swim for Duke University beginning in the 2018-2019 season.
They'll head to Durham at a time when the team will be in need of some more breaststroke talent. Duke senior Peter Kropp was sixth in the 200 breaststroke at ACCs last year. The Blue Devils' highest finisher returning to this year's roster is Judson Howard (1:56.88). He'll be a senior when Wu and Zucker make the move to college. Kropp was second in the 100 and followed by Dylan Payne, also now graduated, in sixth. Howard was a 100 breast B finalist.
Henry Wu
Wu is a USA Swimming Scholastic All-American and a NISCA All-American. He's a senior at Northwood High School.
At last spring's California Souther Section Division 1 Championship Wu finished fourth in the 100 breaststroke in his lifetime best time. That lifetime best was nearly a second faster than Wu's best time entering his junior year.
His best times are:
100 Breast 56.17
200 Breast 2:04.55
100 Fly 51.35
200 IM 1:57.64
Colson Zucker
Zucker is also a USA Swimming Scholastic All-American. He is a senior at South Iredell High School.
His top times are:
100 Breast 55.16
200 Breast 2:02.26
200 IM 1:51.07
At the 2017 North Carolina 3A High School state championships Zucker was DQed in the 200 IM but he rebounded, winning the 100 breast in 57.02, just off his 3A state record, a 56.10 set in prelims. He also split a 25.59 on the breaststroke leg of the team's fourth place 200 medley relay.