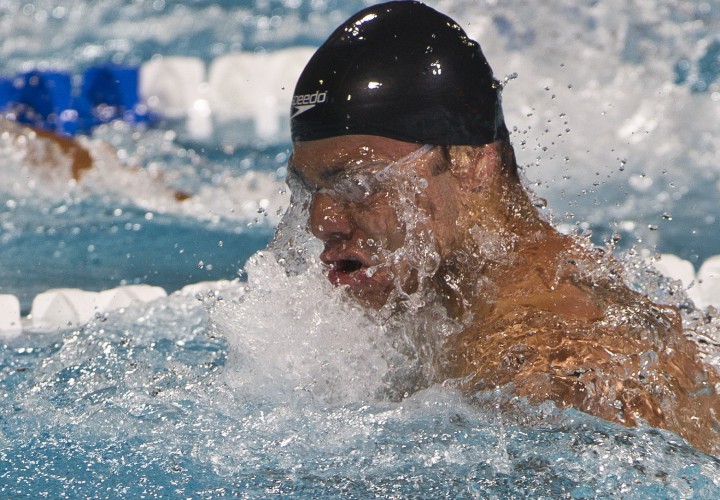 GUARATINGUETA, Brazil, September 2. SOME of Brazil's swimming stars, many of whom had just returned from the Pan Pacific championships in Australia, are racing in the Jose Finkel meet this week to qualify for the short course world championships. After two days of competition, the roster is filling up fast in the early goings of the short course meters season.
Felipe Silva, who won a silver medal at Pan Pacs in the 100 breast, nearly captured the 200 breast title with a 2:04.50. Thiago Simon, who also swam in Australia, won the event with a national record 2:04.28. Thiago Pereira, who was hampered at Pan Pacs with an injury, posted a 52.45 in the 100 IM ahead of Simon's 53.07. According to SporTV's Blog do Coach, Pereira will use that swim to get himself on the roster for the short course world championships and take some time to heal.
NCAA champion Joao de Lucca, who was in the 100 and 200 freestyle finals at Pan Pacs, broke the Jose Finkel meet record in the 200 free with a 1:43.19 in prelims, then won the event with a 1:43.43 over national record holder Nicolas Oliveira.
Etiene Medeiros nearly took down her national record of 57.53 in the 100 backstroke with a 57.76 to post the only swim under 1:00 in the final. Medeiros earned a second victory with a 57.40 in the 100 butterfly. Guilherme Guido also made a run at his national record in the 100 back, posting a 50.49 in the final today that fell short of his 49.63 from 2009.
Marcos Macedo was the other automatic qualifier for worlds so far at the meet, with a 50.06 to win the men's 100 fly.
Femke Heemskerk of the Netherlands comes to Brazil often to race, and won the women's 200 freestyle in 1:52.46. That isn't too far off her Dutch national record of 1:52.25, which she swam last October at the World Cup meet in Berlin.
Cesar Cielo showed that he's in fine form on his way to the short course world championships, posting a 20.57 on the second leg of Minas' 4×50 freestyle relay. Cielo is scheduled to swim the 50 free on Wednesday.