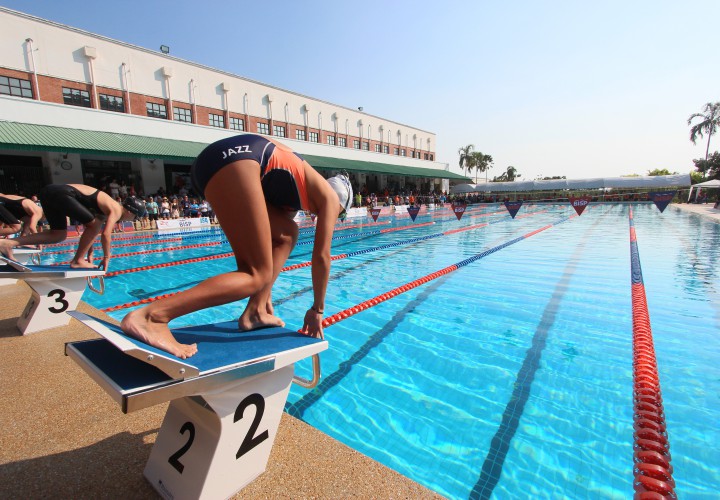 British International School, Phuket (BISP) hosted the FOBISIA Swimming Invitational meet. FOBISIA is the Federation of British International Schools in Asia.
The second edition of this annual three day event saw more than 500 student swimmers – aged from 8 to 17 years-old – compete for honours in BISP's Olympic-size pool.
The swimmers came from 17 schools in 5 different countries, including British International School Shanghai, Dulwich College Seoul, Bangkok Patana, British School Manilla, Uplands in Penang, and the team from British International School, Phuket itself.
Reflecting on the event, BISP Headmaster Neil Richards said, "The competition was a fantastic advert for the quality of swim programs in international schools throughout the region, and to see so many swimmers from BISP competing so well and with such sportsmanship was a particular pleasure."
Tournament Director Jeff LaMantia added that, "I'm proud of our swimmers, coaches, volunteers, parents and everyone from our BISP community that made this such a great event. Our BISP swimmers did very well in the pool, setting many personal bests and as a team improving on last year's achievements in Bangkok."
"With more than 100 competitors alone, out of a total of 530 swimmers taking part – the success of BISP just goes to show the strength in depth of our swim program."
Richard Thorp, Head Coach of the visiting Tiger Sharks from Bangkok Patana school, said "This is the second year of the competition, and it's been very, very well run by BISP. The weather's been awesome, the competition's been fantastic, with a great pool and great facilities. Good luck to [the BISP swimmers] at the Olympics in Rio."
Out of the home swimmers, BISP JSA Swim Academy members Nicholle Toh and Tanylle Ashenden came first and second in the 13-14 Women category; Thai national swimmer Phiangkhwan 'Eing' Pawapotako took gold in the 15 & Over Women; and Malaysian representatives Eric Tan and Fu Kang Wong took gold and silver in the 15 & Over Men, with Dutch national swimmer Hendrik Faber just a few points behind.
BISP JSA Swim Academy Head Coach Simon Jones reflected on a successful tournament for his swimmers, "It's been an amazing three days of racing, and the 17 international schools racing here have brought an incredible atmosphere. It's been exciting to watch our younger swimmers developing."
Click here to read more Swimming World stories about British International School, Phuket.
For more information about the BISP JSA Swim Academy, visit bisphuket.ac.th/swimming, follow the team's Facebook page at facebook.com/swimphuket, or contact Head Coach Simon Jones: aquatics@bisphuket.ac.th
The above article is a press release submitted to Swimming World. To reach our audience, contact us at newsmaster@swimmingworld.com.