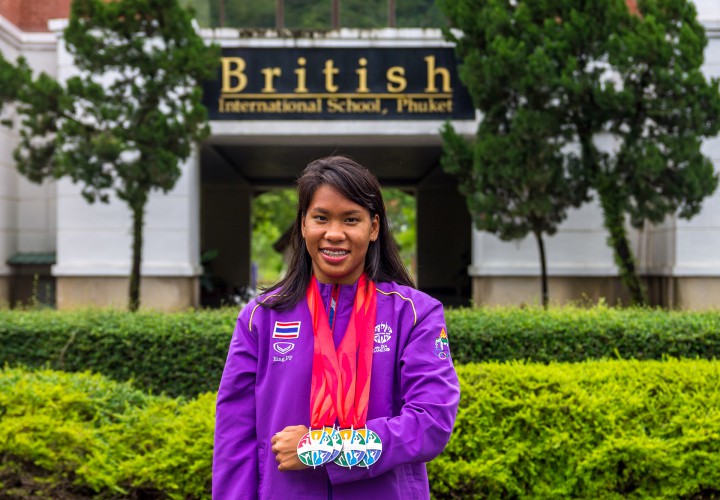 Photo Courtesy: British International School Phuket
By Matt Pond
World-class Thailand national swimmers are few and far between, however, there is one Thai member of British International School, Phuket's BISP JSA Swim Academy who is already making waves on both national and international levels.
18-year-old Phiangkhwan 'Eing' Pawapotako was born in Bangkok, and following in her brother's footsteps, started competitive swimming at the age of six swimming for a local club.
At this time, her coach noticed she had potential to do well in the pool, and by the age of 12 she was competing at a senior level for Thailand in the South East Asian (SEA) Games.
After taking home a bronze medal in the relay at the games, Singapore Sports School contacted the Thai Swimming Association offering Eing a scholarship and she studied in the city for five years before approaching BISP seeking a further scholarship.
She has now been a integral member of the team for just over a year.
Speaking about the BISP JSA Swim Academy, Eing said, "When I first arrived I thought there were too many people in the academy, however I soon adapted to my surroundings and became a lot more comfortable within our group."
In her time at the academy, Eing has already taken part in a number of high level meets, one of the most recent being the 8th Asian Age Group Championships, which took place in Bangkok in October.
During the meet, Eing first won gold in the 50m Breaststroke in a new Thailand national record time of 33.22 seconds. She then took her second gold in the 100m Breaststroke in a new Thailand national record of 1:10.80, followed by silver in the 200m Individual Medley.
As if that wasn't enough, Eing then went on to take gold in the 200m Breaststroke, winning in a time of 2:32.34; bronze in the 200m Backstroke with a time of 2:20.71, and finally bronze in the 100m Backstroke in a time of 1:04.78. Her total takings from the competition was three golds, one silver and two bronze medals.
Asked whether this was the most fulfilling competition to-date, Eing said, "My main aim is to beat my personal best times, and although I achieved that at Asian Age Group Championships I think my favourite competition I've competed in is the SEA Games."
The times she achieved at the Asian Age Group Championships meant that Eing has in fact reached the Olympic Qualifying B Standard in three events, however, Thailand have chosen to take a wild card into the Olympics as a safety measure and this means that they are only able to take one boy and one girl to compete in Rio de Janeiro in 2016.
But that doesn't mean Eing's chances of making the Olympics are over, there is still hope that she can reach A Standard in her remaining competitions before the games which will give her automatic qualification.
One swimmer who is also gunning for Rio is Natthanan Chankrachang, who has already competed in two Olympics and is someone who Eing looks up to.
"Natthanan has remained at the top of her game for a very long time and is a very good role model," she said.
It is now Eing's dream to reach a final at the Olympics, and should that not be in Rio in 2016, it is highly likely it will be in Tokyo in 2020.
Click here to read more Swimming World stories about the British International School, Phuket.
For more information about the BISP JSA Swim Academy, visit bisphuket.ac.th/bisp-jsa-swim-academy, follow the team's Facebook page at facebook.com/swimphuket, or contact Head Coach Simon Jones: aquatics@bisphuket.ac.th