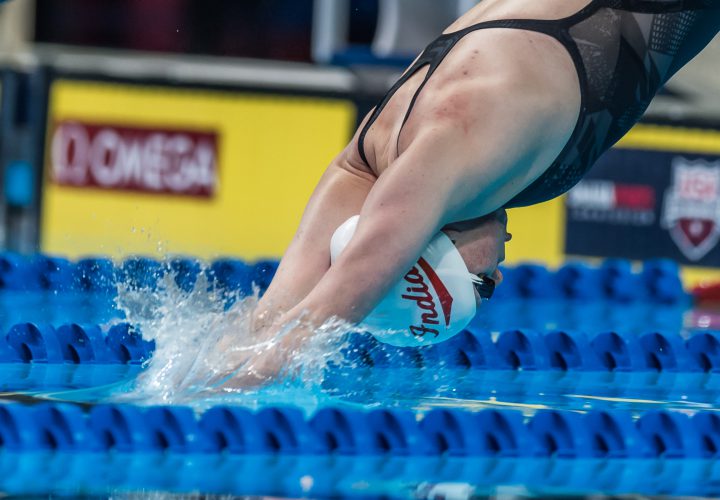 Lilly King.
Photo Courtesy: Peter H. Bick
The first day of individual events began at the Women's Big Ten Championships on Thursday at Purdue.
Here is a look at what is happening in the finals:
200 IM
The 200 IM looked to be a battle between Olympians Lilly King of Indiana and Siobhan Haughey of Michigan.
But King took the victory in 1:55.90 as Haughey was disqualified for not finishing on her back in the backstroke leg. Haughey's unofficial time would have been 1:54.12.
Ohio State's Meg Bailey took third (1:57.75), followed by Iowa's Emma Sougstad (1:57.98), Northwestern's Melissa Postoll (1:58.23), Wisconsin's Jessica Unicomb (1:58.31) and Indiana's Christine Jensen (1:59.12).
500 freestyle
Michigan's G Ryan won the 500 freestyle in 4:34.40, a Big Ten record.
Wisconsin's Cierra Runge took second (4:37.38), followed by Purdue's Kaersten Meitz (4:37.45), Ohio State's Lindsey Clary (4:37.65), Michigan's Rebecca Postoll (4:38.16), Wisconsin's Danielle Valley (4:38.21), Michigan's Yirong Bi (4:39.17) and Northwestern's Valerie Gruest Slowing (4:43.76).
50 freestyle
Ohio State's Zhesi Li won the 50 freestyle (21.48), a Big Ten record.
Wisconsin's Chase Kinney took second (22.14), followed by Northwestern's Mary Warren (22.29), Wisconsin's Emmy Sehmann (22.33), Minnesota's Danielle Nack (22.36), Michigan's Catie DeLoof (22.42), Michigan State's Rachel Bukowski (22.51) and Penn State's Kaitlin Saloky (22.60).
1-meter diving
Minnesota's Yu Zhou won 1-meter diving with 362.65 points, followed by Northwestern's Olivia Rosandahl (354.55), Nebraska's Anna Filipcic (348.95), Minnesota's Sarah Bacon (344.25), Indiana's Jessi Parratto (318.70), Rutgers' Addi Walkowiak (314.4), Indiana's Michal Bower (310.65) and Minnesota's Mariam Khamis (307.90).
400 medley relay
Indiana's Alexandra Rockett, Lilly King, Gia Dalesandro and Holly Spears won the 400 medley relay in 3:28.89, breaking the Big Ten record.
Minnesota's Tevyn Waddell, Kierra Smith, Danielle Nack and Zoe Avestruz took second in 3:30.70.
Michigan's Clara Smiddy, Emily Kopas, Vanessa Krause and Siobhan Haughey took third in 3:31.60.
Wisconsin was fourth (3:31.89), followed by Ohio State (3:34.91), Purdue (3:35.93), Iowa (3:36.71) and Rutgers (3:37.13).
Team scores
Indiana 393, 2. Wisconsin 378.5, Michigan 363, Minnesota 361, Ohio State 307, Northwestern 230, Purdue 223, Penn State 174, Iowa 172, Rutgers 171.5, Nebraska 155, Illinois 117 and Michigan State 115.
---
Associated Links
---